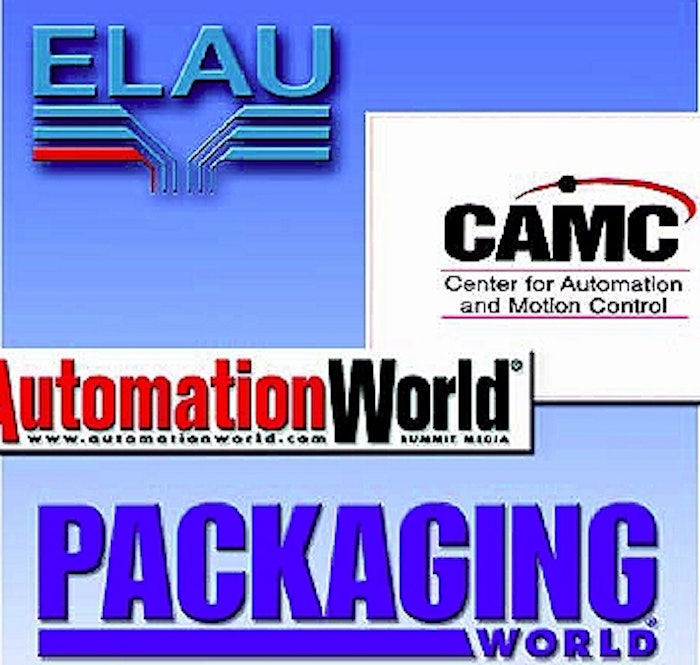 Gary Mintchell Editor of Automation World magazine will be the keynote speaker. Dr. Ken Ryan Director of Manufacturing Automation Research for CAMC and Tom Jensen Senior Technology Evangelist for ELAU will offer a wealth of practical lessons fresh from their tutorial sessions at the ISA Process Control Conference.
After the seminar a reception hosted by Automation World and Packaging World magazines will give you a great opportunity to network with your peers.
To attend register at www.elau.com/seminar.
Here's what you will learn at the CAMC workshop:
What's Gen3…and what's not
Gen3 is a lot more than just adding servos to a packaging machine. It's a discipline of mechanical electrical and software best practices and this workshop will definitely get your creative juices flowing.
5 easy performance enhancements for existing designs
If you're not starting with a clean sheet of paper there's still plenty that a Gen3 automation system will do to throttle up machine performance. You'll explore easy ways to add smart infeeds. Better MES data access. Retrofit a robotic module without adding a robot controller. And how to eliminate temperature controllers PLS and other costly discrete controls.
What a mechanical engineer needs to know about servos
The answer is: not as much as a few years ago. You'll learn how to use powerful new development tools why you know longer need to learn dedicated motion programming languages and how smart servo motors automatically parameterize.
You'll also learn that it's possible to take an existing CAD file for a mechanical cam and automatically convert it to a software cam profile without any math or manual data input.
How software libraries make it easier to design a Gen3 machine
You'll see what an extensive library of pre-tested off-the-shelf IEC conforming software objects can do for you. It lets you plug in the inputs and outputs drop even the most powerful cam functions into a ladder rung and get a machine running fast!
What Gen3 features do Fortune 500 packagers want?
You'll learn what functionalities the big food beverage pharma home & personal care manufacturers are asking ELAU for…and how to design them into your system. ELAU supplies the automation systems on $1 billion worth of packaging machinery annually most of which ships to the world's largest end users.
The latest technology trends from Europe
European packaging machine builders are busy and frankly they are doing some innovative things. You'll be briefed on the latest news from ELAU technology forums held in Germany and Italy.
How to add value and reduce your component cost
There are many tricks of the trade to reduce your mechanical component count by 30% or more. This seminar will show you where to find the savings that will make your Gen3 machine an even tougher competitor in the marketplace.
To reserve your place today:
Register today at www.elau.com/seminar.
[This advertorial originally appeared in Packworld.com's supplier-sponsored content area.]
Companies in this article