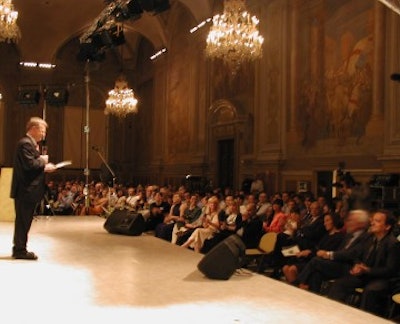 That was the opinion of Thomas Reiner of Berndt & Partner Packaging Consultants, Berlin, Germany, one of the first speakers at The Heart of Packaging, an international conference held September 20 in Bologna, Italy.
In an Italian palace, speakers from Germany, Italy, and the United States shared their visions of the future of packaging machinery with over 470 attendees from original equipment manufacturers of packaging machinery. The list of speakers included representatives from Nestlé Italia, Unilever, Abbott Laboratories Italia, and Pharmacia and professors from the Universities of Berlin, Bologna, and Modena.
The conference was sponsored and organized by Elau (Chicago, IL) in cooperation with the Italian organization of packaging machinery builders, UCIMA; the city of Bologna; and various Italian government organizations.
According to Ermanno Capritti of Nestlé Italia, packaging machinery needs to be more flexible. He believes that the machinery of the future must package more than one product on a line. "High automation combined with a flexible machine is the key," he said.
Andrew McDonald of Unilever said that the future lies in integrating different machines and lines from different manufacturers. One solution he noted is the Plug-and-Pack concept that allows communication between machines. (Plug-and-Pack refers to a set of guidelines being developed by the OMAC [Open Modular Architecture Controls] users group). McDonald also mentioned the need to relocate machinery easily.
Giuseppe Motta of Abbott Laboratories Italia said that the only way to innovate is to have integrated communication in all areas of the company including development, marketing, production, controls, and logistics. Robert Martell of Pharmacia, Kalamazoo, MI, agreed, adding that pharmaceutical packaging machines must also meet a standard to comply with pharmaceutical packaging requirements for each product.
University professors presented recipes for software and applications that permit the complete transmission of data. Alberto Tonielli of the University of Bologna said that the packaging industry has passed the "naive" stage and it is time to standardize machine software and communication interfaces. This includes Web interfaces for remote diagnosis and maintenance--all maintained through machine simplification. According to his research, new machines must be designed to package products of all sizes with a quick changeover.
Keith Campbell, executive director of OMAC Packaging Workgroup, shared the group's mission--reductions by up to 50% on machine delivery and startup time, footprint, throughput, changeover, material loss, downtime, and more. Campbell believes that OMAC's Plug-and-Pack[tm] guidelines, if widely adopted by end users and machine builders, has the potential to achieve those goals. He summarized the group's many accomplishments to date, including PackML, a packaging machine language that can reduce packaging line integration time, simplify the start-up and shutdown of a line, permit enhanced data analysis and line optimization, and more.
The discussions and presentations concluded with the fact that attention to customer needs is the key to developing packaging machinery of the future. The future includes new technology and collaborative work with the goal to provide better services and lower costs for short-, medium-, and long-term packaging solutions.
Companies in this article