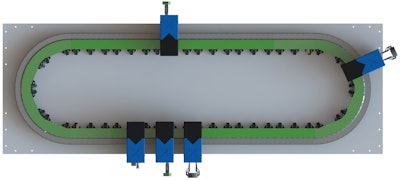 But now entering the industrial wireless field is an innovative company out of Israel called CoreTigo that could change a lot of this. At the center of its products is IO-Link Wireless—a wireless technology developed for factory automation applications. "We worked as part of the IO-Link consortium to create this deterministic, cable-grade wireless product that offers a level of reliability on par with the quality of wired IO-Link," says Gabi Daniely, Chief Strategy and Marketing Officer at CoreTigo.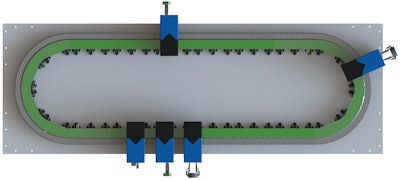 IO-Link Wireless reportedly provides a deterministic latency of up to 5msec with a high reliability (1 e-9 Packet Error Rate) that is similar to IO-Link Wired, a million times better than other wireless protocols such as Wi-Fi, Bluetooth, and Zigbee. This level of reliability enables IO-Link Wireless to claim that it is perfectly suitable for industrial automation both for motion control and monitoring. CoreTigo notes that IO-Link Wireless is designed as a deterministic protocol. It is based on time and frequency slots and guarantees that each data packet will be delivered within a bounded delay.
Among the packaging machinery OEMs who like what they see in this wireless communications protocol is Germany's Protion. Its first offering is the Orboter, a transport track system that incorporates independent movers capable of moving around a track. A power rail designed by Protion is what moves the movers around the track. But the movers are not "smart" in terms of communication because the power rail can't communicate with the movers beyond motion control. So until now, the movers have only been capable of traveling from point A to point B around their track. And they do this very well. But the idea of including any kind of actuating device like a gripper or a vacuum suction cup has been ruled out because there has been no way to communicate with or control such devices.
OEMs Can Monetize Predictive Maintenance
Two Key Areas of Cybersecurity Vulnerability in Manufacturing
That's where IO-Link Wireless comes in. Devices attached to the movers can communicate and be controlled wirelessly. A gripper, for example, can be equipped with IO-Link Wireless so that changeovers can be handled automatically via commands from the PLC, thus eliminating downtime and manual setup. This is crucial when changing from one package type or size to another. It also means that sensors equipped with IO-Link Wireless can be added to the movers for the purposes of predictive maintenance. Go to pwgo.to/6066 for an animated video of a track system deploying this wireless communication system.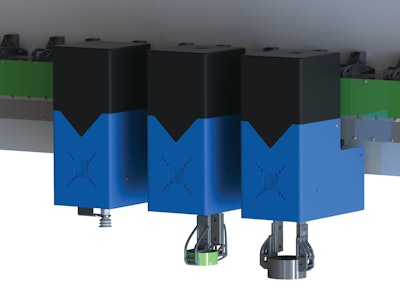 Early iterations of Protion's Orboter have deployed the XTS linear servo motor track system from Beckhoff. Protion President Ranier Buschulte prefers the term "Probots" to "movers" when referring to the components of the Orboter. "Movers don't have any intelligence or ability to communicate," says Buschulte. "The Probot, by comparison, can include actuators and sensors that make it capable of sending outputs and receiving inputs."
Specific CoreTigo products that Protion is using in its Orboter include the TigoBridge SOM and the TigoAir SOM. Integrated into the Probots, these modules convert signals coming from sensors mounted on the Probot into wireless signals. These wireless signals are received by another CoreTigo product called the TigoMaster, a stationary unit near the PLC. Its job is to convert the signals into inputs suitable for the PLC. And when the PLC needs to send outputs back out to the Probots, it does so in reverse order: first to the Master and then to the CoreTigo modules integrated into the Probots and then to the actuators on the Probots.
One last observation on IO-Link Wireless that Buschulte makes is that it's vendor agnostic. "Remember," he says, "a packaging machine can include sensors from a variety of vendors, or actuators like mechanical grippers or vacuum pickers that come from a number of suppliers. If you don't have to worry about proprietary software or drivers and you're dealing with a standardized interface, it's so much easier to proceed."
PACK EXPO Las Vegas and Healthcare Packaging EXPO (Sept. 27-29, Las Vegas Convention Center) will reunite the packaging and processing community, offering new products, technologies and solutions, while implementing up-to-date protocols for a safe and successful in-person event. Attendee registration opens in May.
Companies in this article