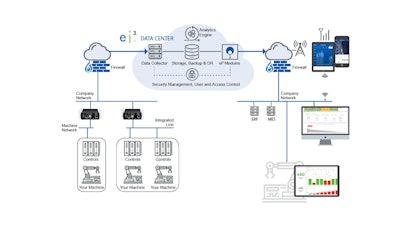 With headquarters in Columbus, Wis., and production facilities in five sites, American Packaging Corp. (APC), has been as forward-thinking as any flexible film converter operating today when it comes to connecting machinery, gathering data, and analyzing it in the cloud. The business benefits derived from such efforts include real-time visibility into production and the ability to use actionable data to optimize efficiency. Here's how Lee Blythe, Senior Process Engineer at APC, puts it.
"It's all about having the data where we need it when we need to make a decision instead of trying to remember, or looking through paper documents, or going off of tribal knowledge passed down from person to person. Now we have definitive answers about what we did the last time, which paves the way to repeatable success."
The platform APC has had in place since 2012 is ei3 Corp.'s Cloud Platform for Smart Services. It lets users measure continuously and automatically as part of the process control flow. The data is collected centrally and can be viewed on HMI or mobile device dashboards and inspected by operators, quality control, and management—from every machine, every line, every plant.
At the hardware level it involves what ei3 calls its Amphion device. Built to be installed inside a machine control panel, the Amphion requires a standard Ethernet-based connection to the Internet to get connected. The Amphion supports legacy and modern fieldbus protocols alike, allowing seamless, easy access to a large variety of PLCs. Individual machines can connect through a single Amphion, whereas larger installations or plants connect through a two-tier solution with one Amphion in each machine and a dedicated Amphion providing site-wide plant access. Using this network design, ei3 supports scalability from one machine to many hundreds with full security, while only requiring the user to configure, manage, and audit a single outgoing connection. Also, this architecture allows clients to have full control of the data communicated to the cloud.
Software, of course, is at the heart of this offering. "ei3 provides the software to customers on a per-machine basis for a monthly fee," says ei3's CEO Spencer Cramer. "Using this SaaS (Software as a Service) approach enables our customers to save time and money and lets them concentrate on their own core businesses. Also important is that the software is continually upgraded and improved, and because this solution is delivered as SaaS, they're always getting the newest features."
Cramer emphasizes that the security framework is "approved by plant IT and managed by plant OT." This approach, he adds, "harnesses the skills of both IT and OT in a way that promotes collaboration and streamlines deployment."
Recipe management, downtime tracking, and quality management are three functions of the ei3 Cloud Platform for Smart Services that APC's Blythe has found especially valuable. "Recipe management allows us to take the values off the machine when we know it's running well and save them so they can be called up immediately the next time that job runs," he observes. "Downtime tracking is also big. We're getting into it even more heavily now as we integrate it with our ERP system. As for quality management, it allows us to pull data in and start doing QA and QC while we're running to make sure that if we have an out-of-spec data point or something that's trending toward out-of-spec we can correct it before it goes out-of-spec."
While the ei3 platform initially emerged out of a partnership with Bobst and the earliest applications of Bobst Connected Services involved converting equipment made by that Switzerland-based OEM, ei3's Cramer describes the product offering as it exists today as being "control system agnostic and capable of supporting a heterogeneous plant floor with equipment from many different vendors." All of which is plainly in evidence at APC, where the software is used on machines ranging from presses to laminators to slitters.
Blythe says that APC has expanded the ei3 platform from one Bobst laminator in 2012 to some 50 machines that are now connected. A new feature just coming onstream revolves around business analytics. Blythe compares it to Excel Slicer, a recently developed tool for filtering data. "It will let us analyze certain things relative to other things in such a way that seemingly disparate pieces of data come together and reveal things you wouldn't have otherwise known."
Cramer describes the Business Intelligence tools newly added to its SaaS suite as being designed to give customers new ways of discovering relationships between causes and effects. "It's our next frontier," he adds, "this idea of predictive maintenance, of predicting outcomes before they occur. Because of the enormous amount of data we've collected by being connected to so many machines and knowing what the downtimes of those machines are, we can look at the most significant causes of downtime and look at the signatures of the data points collected during the period just prior to those downtimes. Then we can develop predictive algorithms and run them in the cloud in real time so we can identify what's happening and alert either the OEM's service department or the packaging converters themselves who are operating the equipment so they can take action."

Companies in this article