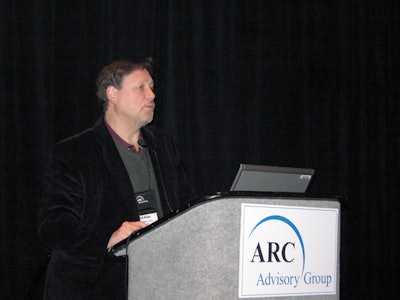 Control suppliers, packaging machinery builders, and packaging machinery buyers have been talking about standards, or the lack thereof, for what seems like an eternity. So you'd think that by now the three camps would be pretty unified where standards are concerned. But recent conversations with packaging machine builders and buyers reveal that there's still a ways to go.
PackML continues to hold the most hope. This "Packaging Machine Language"—and the data definitions, called PackTags, that are central to it—is a common programming structure having consistent modes and state definitions. With this structure in place, all packaging machines, regardless of who built them or whose controls they deploy, have a common look and feel.
But acceptance of PackML, even though it's gone from being a set of guidelines to an ISA standard, has been neither swift nor universal. Here's how Ulf Leineke, electronics engineering manager at MediSeal GmbH, put it to me in a conversation we had during the February 2-5 ARC Forum in Orlando, FL.
"About four or five years ago when PackML began to gain traction, we believed it could be a very satisfactory solution. But momentum seemed to fade somewhere along the line, to the point that we—a German builder of packaging machines for the pharmaceutical industry—did not pursue changing our software to comply fully with PackML. At this point, we don't hear it talked about all that much anymore."
Meanwhile, at the opposite end of the PackML continuum, Procter & Gamble is such a big believer in PackML that it's a cornerstone of the firm's corporate technical strategy. Rob Aleksa, P&G machine control section head of corporate engineering technology, was also at the ARC Forum, where he delivered a presentation called "PackML: Ready for Prime Time."
"P&G is serious about deploying PackML on our packaging machines," said Aleksa. "OEMs should expect to see P&G specs with PackML clearly identified as a requirement. We'd like to see OEMs get serious about deploying PackML in their systems, and we'd like control suppliers to help OEMs and end users with implementation of PackML by supplying training and standard templates. Finally, we'd like to see other end users embrace this standard, too."
Aleksa believes the business need is crystal clear. Critical to business growth is access to the information lodged in the controllers that populate machines in today's packaging lines. Having a standard programming structure like PackML eliminates the need to work through custom code to get that information. And with that information comes the visibility that brings better scheduling, faster changeover, and full asset utilization.
OEMs and control suppliers stand to benefit, too, said Aleksa at the ARC Forum. Faster machine development, the ability to re-use and re-apply code, and less time spent on debugging are among the benefits PackML brings to the OEM. At the end of the day, the OEM can spend more time focusing on machine innovation and less on code, Aleksa told his ARC Forum audience.
As for control suppliers, a key benefit they enjoy by boarding the good ship PackML is that it lets them supply to the end user uniform libraries that require minimal end user training by control suppliers or the machine builder who uses their control components.
Aleksa willingly acknowledged that PackML is in need of some refinements. "One issue with PackML that surfaces frequently revolves around implementation," he told his ARC Forum audience. "Although guidelines from control suppliers are good, there are still gaps. I had that made very clear to me in a recent conversation with an OEM and a systems integrator.
"Better execution software is needed, too. Questions about scan time and how it affects control execution keep surfacing, for example. So internally at P&G we've done some work to create a simpler code in executing the state model. We've identified only those PackTags we feel are essential as we integrate into our MES. That work is well underway and soon will be seen in our technical specs to help OEMs."
Streamlining the supply chain
Also focused on MES and how it relates to Pack ML is Rick Van Dyke, group manager controls and MES systems at Frito-Lay. In a January phone conversation he indicated that he sees better MES functionality as a means of streamlining his company's supply chain.
"We've been asked to change our supply chain," says Van Dyke, "from being essentially manual in nature to something that's more automated. We see it as an opportunity to reduce some costs and provide added flexibility. We also recognize that it's a big change and not something you do in a year or two. We're looking five and ten years out."
Now about three years into this process, Van Dyke and colleagues have completed a few pilot programs and are looking at implementation and roll out.
Van Dyke heads up a group that goes by the acronym FACTS. It stands for Factory Automation Control Technology Systems. "Most of my group's projects," he says, "are in packaging or warehouse automation. We provide the controls and factory IT solutions."
Van Dyke is a big believer in the benefits that can be gained from an MES that's robust enough to deal not only with processing but with packaging, too. He thinks that providers of MES solutions accustomed to operating in the processing arena have some learning to do when it comes to packaging lines and packaging machinery.
"Processing doesn't have the same complexities that packaging has," says Van Dyke. "Retailers and consumers alike are looking for so many more package varieties today. That means that a manufacturer, regardless of what product is in process, has a wide variety of SKUs he faces when it comes to packaging. We discovered that not all the MES software we evaluated had the kind of functionality required for this kind of complex operation."
One area where Van Dyke and Frito-Lay have had to do a little prodding centers around PackML and PackTags. "We've been pushing MES software suppliers to develop new PackTag definitions at the MES level," says Van Dyke. "We'd also like the end user community to agree on MES functionality and definitions."
Van Dyke believes that anything the controls community can do to foster the adoption of widely accepted standards like PackML will result in the availability of more "off-the-shelf" software packages that drive business benefits.
In light of Van Dyke's remarks about MES software suppliers and their use of PackML, it's worth mentioning that MES software solutions supplier Wonderware recently introduced what it calls Wonderware Industry Application for Packaging. It was the subject of a presentation at the recent ARC Forum. P&G's Aleksa made this observation during his ARC Forum presentation.
"This Wonderware solution is very interesting. It pulls information off of packaging machines using software that was designed with an assumption that PackML PackTags are being deployed. It's my understanding that other MES software developers out there are also basing their information-gathering functionality on PackML PackTags. This is exactly the kind of thing we'd like to see happening."
A recent convert
More input on the role that standards can play in packaging machine control comes from an engineer at a large Consumer Packaged Goods company who admits he's a fairly recent "convert" to the church of PackML. He agreed to share his thoughts for this story but asked not to be identified—at least not for now. He thinks it makes all the difference in the world that PackML has gone from being mere guidelines recommended by a users group to being ISA TRO88.05, an officially recognized standard of the International Society of Automation. He applauds the volunteer effort that brought about this change.
"Now the trick is to get the machine builders to start adopting the standard," he says. "They've played a waiting game of sorts so far, adopting PackML only if an end user asks for it. It's getting to the point where OEMs need to be educated that this is not a threat to them but rather an asset, especially if they simply add it to their portfolio of offerings. What also needs to happen is for a number of big end users to publicly adopt this standard. Smaller end users will also need to be educated about the benefits of adopting a tagging standard like this.
"And don't forget the suppliers of MES programs, the Wonderwares and GE Fanucs, for example. They have an opportunity to start pushing this from their angle, too. The open interface, the ability for rapid deployment and scalability, the simplicity, the visibility—these are all there to be had if PackML is now embraced and deployed widely. I think it's time."
Meanwhile, in the pharma sector
What about control technology in pharmaceutical packaging? Are OEMs, control suppliers, and end users on the same page regarding standards in the pharma sector?
Apparently not. In fact, the situation has led to the formation of a users group whose goal is the development of one standard specification document for packaging machines regardless of who builds them or where they sit in the packaging line. The standardization this group envisions is aimed at benefiting both the OEM and the pharma manufacturers who buy the OEM's equipment. The key benefit to the OEMs is that it will permit them to build essentially the same piece of equipment regardless of which pharma customer buys it.
"Take thermoformers as an example," says a spokesman for the users group who agreed to be interviewed but not for attribution. "It's probably the most expensive piece of packaging equipment involved where oral drugs are concerned. Currently, each end user has its own spec, which means each of us asks the builder of that machine for a slightly different machine. I'm sure we all believe we're doing the right thing for our company. But unfortunately it results in the development of a 150-page document by each end user, and the OEMs must wade through these documents before they can build our equipment."
The trend away from paper records and in favor of electronic batch records makes it more important than ever that certain standards be agreed upon more widely. As things stand now, each OEM is going to come up with its own software solution to deliver the part of the electronic record where his machine is involved.

The pharmaceutical users group will also press OEMs to be more willing to share certain programming information. If these efforts are to succeed, the OEMs will have to relinquish their belief that tight control over such programming information is the basis of their ability to differentiate themselves and compete.
"It's that old 'black box' mentality," says the users group spokesman. "The European OEMs can be especially difficult about this. They may claim to offer an open interface that abides by PackML. But if you dig into it, you begin to see that access to source codes, for example, is denied. This can complicate maintenance and repair because it clouds visibility. If a repair is made and it involves software, how can we confirm it was made correctly? Or suppose we want an interface to the machine that permits data monitoring or communication of data to MES or ERP? Without access to the source codes, this is tough to do. We have to bring the OEM back in."
And where do the automation technology providers figure into this discussion about standards in the pharma sector? The users group spokesman sees it this way. "Historically they have had two camps, one looking out for the interests of the end user and one focused on the machinery OEM. But what if an end user wants access to source codes at the same time that an OEM asks for a password that locks out the end user from access to those source codes? I think the automation technology providers are recognizing that conflicts like this are to be avoided, so I think they are looking for ways to connect end user needs with OEM needs. They're looking to close the loop."
The same note of hopefulness about mutually beneficial collaboration and standardization permeated the ARC Forum in Orlando. Who knows, maybe the notion of agreed-upon standards is finally beginning to take hold
Companies in this article
Videos from All Packaging Machinery Corp.