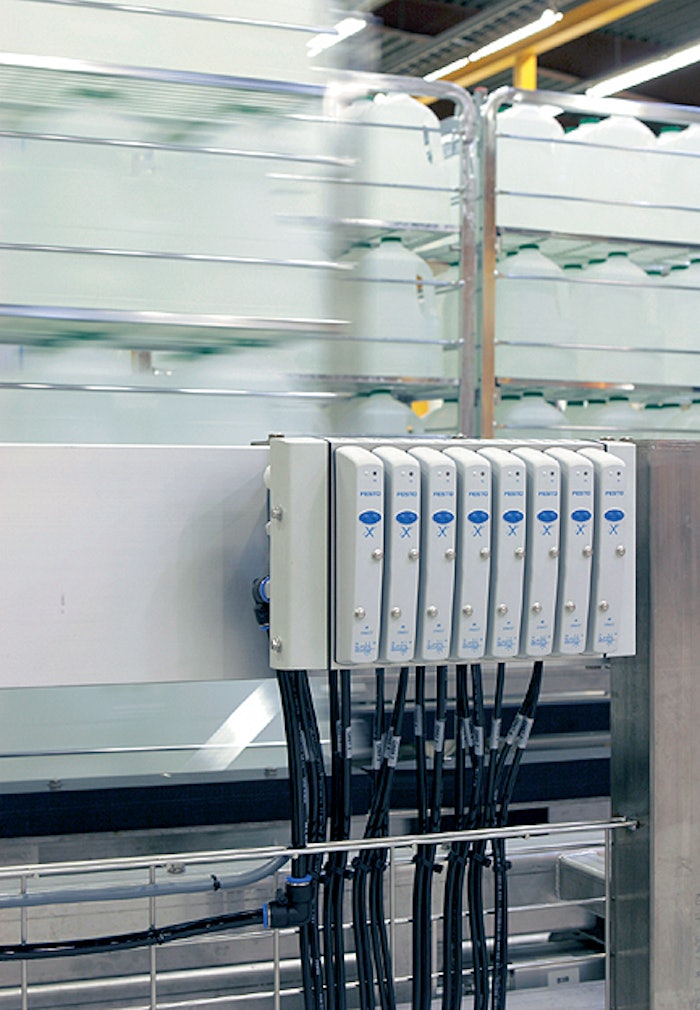 Two Festo components help make Elopak's container loading system both hygienic and easy-to-maintain. Lauri Nurminen, sales manager materials handling with Elopak, outlined the benefits of the Festo CDVI Clean Design Valve Terminals and CDN Clean-Design Cylinders at a speech to editors from around the world who attended a press briefing at Festo's German headquarters this past December.
The materials handling division of Elopak, located in Finland and Norway, manufacturers its container loaders mostly for high-volume or quick-turnover products such as fresh milk. Mounted on rollers, containers carry 160 liters and have a capacity varying from 5ꯠ to 13ꯠ units/hour.
A complex series of actions unfolds as the Elopak system does its thing. First, a group of bottles is pushed forward on to a slotted table of the container loader. A loading plate is pushed into the trolley. A group pusher front plate moves the group onto the roll container shelf. The full trolley elevator moves the trolley downward to the next shelf level for loading. This is repeated four times to fully load one trolley.
Three of Festo's pneumatic valve terminals are on the machine: one is placed close to the trolley-handling section of machine, one is near the full trolley out-pusher, and the other is above the bottle grouping section of the machine. The machine is controlled by a Mitsubishi Q-Series PLC, which is connected directly to the valve terminals. Elopak also uses Mitsubishi's CC-link network to communicate between machines and the line control system.
Valves control various cylinders in the machine.
• Pusher plates move up and down with pneumatics.
• Bottle guides and shelf knock down units are pneumatically driven at bottle in-feed.
• Trolley locks and guide plates on the out-feeding unit are pneumatic.
• Safety doors for trolley in-feed and out-feed have cylinders driving them.
• CIP valves are also pneumatically controlled.
The Clean-Design Valve Terminals are ideal for wet environments such as a dairy or other beverage-filling applications, Nurminen said. They can even operate without protective stainless-steel control cabinets. This means that they can be mounted directly to the machine, helping save space in the control cabinet.
The Clean-Design cylinders require minimal cleaning for maximum functionality. They are enclosed on all sides to avoid dirt and dust collection on the cylinders. They're also easy to maintain. The cylinders are housed in anodized aluminum, providing enhanced corrosion resistance.
Companies in this article