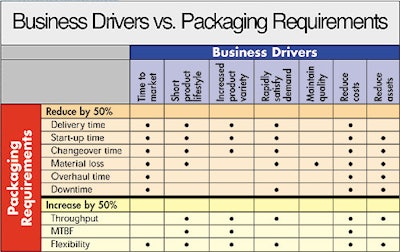 Imagine the packaging operation of the future as a highly flexible and agile environment that will deliver custom orders and will be responsive to rush orders. Imagine totally new packaging machinery that treats change as business as usual. As demand rises for convenience packaging in all shapes and sizes for products with shorter life cycles, imagine a packaging line that will provide these types of changeovers instantaneously.
Sound far-fetched? Not for Andrew McDonald, global automation and control technology manager for Unilever Home and Personal Care North America located in Trumbull, CT. He believes it's possible, but only if packaged goods companies commit themselves to decreasing machine delivery time, start-up, changeover, overhaul, downtime, and material loss by 50% while increasing things like flexibility and throughput by 50%.
"Packaging requirements will drive increasingly more sophisticated information technology in the packaging machine sector. We will require machines that have multiple functionality and that are configurable on the fly," McDonald said at the "Heart of Packaging" conference held in Bologna, Italy, on September 20. The event was sponsored and organized by Elau (Chicago, IL) in cooperation with the Italian organization of packaging machinery builders UCIMA, and the city of Bologna.
One requirement is to quickly connect packaging machines from different suppliers. According to McDonald, Unilever currently buys packaging machines from a variety of manufacturers and then spends a lot of engineering time integrating machines into packaging lines.
"With the consolidation of manufacturing facilities, assets are being moved from factory to factory," said McDonald. "The time taken to move machines and set them to work in their new location has to be reduced, and the risks in doing so have to be mitigated."
Making data available
McDonald points to the OMAC (Open Modular Architecture and Controls) Plug-and-Pack™ guidelines as a solution. Plug-and-Pack refers to a series of guidelines designed to reduce the cost of integrating packaging machinery. McDonald believes a standardized approach to machine programming, architecture, and networking across the industry will help address this problem.
"We can help end users to achieve consensus on requirements and communicate to the original equipment manufacturer community," he said. "Three-way development by end users, OEMs, and machine suppliers is required and made possible through OMAC."
According to McDonald, the best solution is to collaborate, even with competitors, to achieve a consensus on requirements guidelines and then to use combined end-user leverage to encourage technology suppliers and OEMs to deliver the required functionality. "With this approach many of the features required by end users come as standard, which could reduce costs for technology suppliers and OEMs. These cost reductions can be passed on," he said.
"Clearly we need to drive our supply chain costs down and work our assets [including packaging equipment] harder. This delivers increased margin and provides the fuel for growth," he said. "To achieve this, we need to establish the link between business strategy and requirements for packaging systems."
Documenting performance gains requires that all relevant data be exposed for line performance monitoring, diagnostics, and root cause analysis. McDonald suggests using OMAC's PackML tag/namespace guidelines that include names of the data elements as well as the data types; values; ranges; and, where necessary, data structures.
"Formally defined 'name space' equals a 'language' for packaging machinery," he said. "Perfor-mance-related data could be embedded, such as machine status, downtime monitoring, fault display, all of which can permit line efficiency calculations."
According to McDonald, line performance data exposed through common interfaces will improve overall line diagnostics and assist in identifying packaging line errors more quickly. For packaging OEMs, common interfaces ensure that machine builders are free to innovate around their core area of expertise to provide interconnectivity to other machines.
Back to the future
McDonald foresees radically different packaging plants from what currently exist. They include a combination of flexible multifunction packing machinery and flexible transportation systems, coupled with the concepts of distributed artificial intelligence that offer self-organizing systems.
In a subsequent interview, McDonald told Packaging World that the packaging systems he envisions must be scalable, reconfigurable, and flexible. According to McDonald, all requirements can be met based on software agents. Some agents will define orders (quantities, delivery dates, target cost); others will define the product (how to make the product and what raw materials are necessary); and others will represent the resources (packing machines, transport systems, etc.).
McDonald describes this type of system as holonic. A holon is something that is both autonomous (capable of operating on its own to deliver some kind of functionality) and co-operative at the same time.
According to McDonald, the holonic approach is not applicable to the current philosophy of fixed linear product flow through manufacturing and packaging. "To take advantage of the benefits which artificial intelligence can bring, we need to move from packaging lines to packaging cells," he said.
These cells will have flexible, multifunctional machines connected by "smart" conveying systems that can automatically switch to another machine when changeovers occur.
With such packaging cells, McDonald says packagers can achieve "improved customer response for mixed products on a single pallet; product change management with rapid reconfiguration and plug-and-pack; better capital and asset utilization for better use of production capabilities; good route selection through the factory; and wide range of agile packaging scenarios," he said.
For an overview of the "Heart of Packaging" conference, see: packworld.com/go/w043
Companies in this article