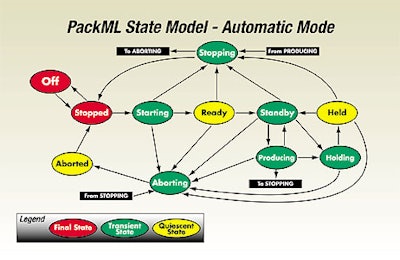 The PackML Team, part of the Open Modular Architecture Controls (OMAC) Packaging Workgroup, has completed Version 2.1 of its so-called state-model specification.
This defines common states of packaging machinery with naming conventions that are independent of underlying network hardware or protocols. PackML refers to OMAC's proposed "language" of packaging machinery, which can standardize how information is exchanged on a networked packaging line. Such standardization can in turn optimize line performance and reduce line integration and support costs—but only if it's widely embraced by packaging machinery builders and buyers.
Developed by engineers from Unilever, Procter & Gamble, Hershey, Markem, Bosch Rexroth, ELAU, Rockwell, and Siemens, the state model is a step toward networking packaging lines to optimize performance while reducing engineering costs. End users of packaging machinery on the PackML Team are soliciting packaging machinery manufacturers to comment on the draft and adopt the finalized machine state model.
The state model draws upon ISA S88, Unilever internal engineering work, and related information technology standards to provide an open architecture foundation for packaging machine networking. According to the OMAC group, if embraced by machinery builders and other end users, the state model can reduce end-user costs associated with training, machinery commissioning, and operations—regardless of the make of machine or controller.
The OMAC group also believes that users will realize operational efficiencies through information exchange from increasingly intelligent controls. Such efficiencies could be seen in maintenance scheduling, troubleshooting, technical support, and asset management applications.
For Andrew McDonald, a Unilever packaging engineer who substantially contributed to the development of the state model, it "represents the first real test of our supplier partners' enthusiasm level for implementing OMAC-generated guidelines. To do that, we need to get the word out. That's why our team members will start going door to door, encouraging machinery builders to have a look."
At press time, the state-model specification was expected to be approved by the OMAC Packaging Workgroup executive committee at its February meeting, though the specification is still open to comment at http://omac.packworld.com.
To download a PDF of the state-model specification document, visit: http://omac.packworld.com
See sidebar to this article: Simulate machine states on your PC
See sidebar to this article: OMAC at interpack 2002
See sidebar to this article: PLCopen releases motion specification
Companies in this article