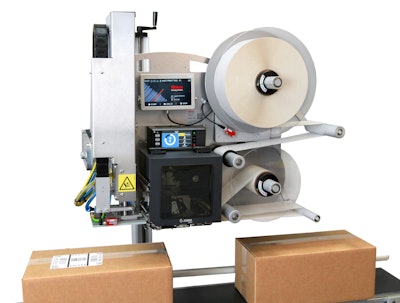 This content was written and submitted by the supplier. It has only been modified to comply with this publication's space and style.
Featuring a consistent modular design, the system can be adapted to any specific application. Print engines from all leading manufacturers can be used in the Model 4050.
Weber Packaging Solutions' Model 4050 label printer applicator uses modulated vacuum to reduce air consumption by up to 80% over other systems. Integrated sensors constantly measure the labeling pressure required and make adjustments as needed during operation. Two compressed air circuits allow the label to stay on the tamp pad and the thruster to stay in position when an emergency stop occurs on the production line. This eliminates the need to reset the applicator when the emergency is cleared and the line restarts.
A clear cover over the pneumatic system makes it easy to see and access for operation, servicing and cleaning. There are two separate compressed air cycles: one for safety-relevant processes such as moving the tamp, and one for general functions such as label management. Color-coded tubing and LED indicators make it easy to follow the action.
The Model 4050 uses powered unwinders and rewinders to minimize wear on the printing modules while ensuring precise printing. And the labeling module was also designed without service parts. Regularly replacing parts at set intervals is a thing of the past. You only replace parts on the Model 4050 if ever needed. The only maintenance item is the print engine which should be maintained per the manufacturers requirements. The non-stick air-assist tube is standard on all Model 4050s.
The 13.75 in. unwind matches the label length and ribbon length for one-to-one media consumption. This reduces downtime and eliminates partial changeovers.
The Model 4050 has a 7-in. LCD color touch screen that makes it easy to operate the system. It includes common functions such as error and diagnostic notifications, plus details on current productivity and machine status. An event log provides recent system information. The resistive touch screen (can be used with gloves) can display in light or dark modes. An optional logic controller in available to add unlimited connectivity. The display also incorporates QR codes for remote technician support.
Companies in this article
Videos from Weber Packaging Solutions