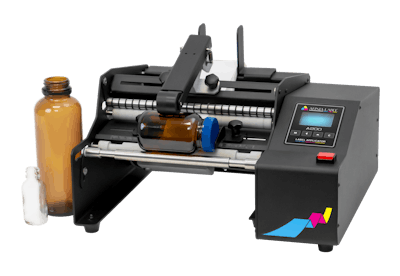 The A200 features an advanced ultrasonic label sensor, allowing for a wider range of compatibility with thinner label materials than mechanical flag sensors common in other applicators.
Applying labels with the A200 is simple and consistent. Round containers are placed against configurable guides to maintain perfect label placement. Then, with a press of a button or the included foot pedal, labels are precisely dispensed and affixed to the container.
A convenient online calculator tool is included to quickly and accurately determine the necessary values for proper spacing on front and back labels, such as those commonly found on wine bottles. These values can easily be entered, saved, and recalled with the intuitive LCD display. Up to 10 preset configurations can be saved on the A200.
---
PACK EXPO Connects–November 9-13. Now more than ever, packaging and processing professionals need solutions for a rapidly changing world, and the power of the PACK EXPO brand delivers the decision makers you need to reach. Attendee registration is open now.
---
"Hand applying is slow and results in rework if labels are not perfectly placed," said Mike Atkins, Afinia's National Sales Manager. "The A200 Bottle Label Applicator is a durable, low-cost solution for our customers needing to increase productivity while maintaining a consistent, professional look for their packaging on the store shelf. This machine saves time and money with simple, consistent, and reliable label application."
A200 is compatible with labels created by any of Afinia's L901, L801, L502, and LT5C color label printers, making it a perfect accessory for companies using cylindrical packaging. Afinia' digital label finishers—such as the DLF-140s, DLF-220s, and DLF-220L—also create roll labels that can be used with this applicator.

Companies in this article