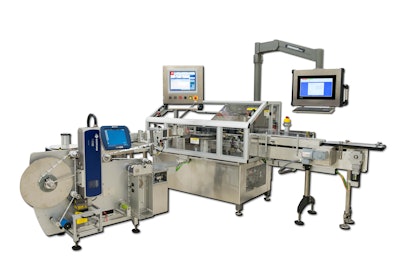 WLS's VR-72 provides high-speed operation, accurate and repeatable label placement, low maintenance and quick changeovers.
Fully servo-driven with a modular design, this continuous motion pressure-sensitive system applies wrap-around labels to vials and other cylindrical products at speeds in excess of 600 vials/min.
"The VR-72 is in high demand with pharmaceutical manufacturers preparing to mass-produce a COVID-19 vaccine. Since many of them already have WLS labeling equipment running in their facilities, they know we build reliable, world-class technology," said Philippe Maraval, V.P. of Business Development at WLS. In addition to vaccines, the Weiler Labeling Systems' VR-72 labeler is ideal for a variety of pharmaceutical and nutraceutical products including solid doses, vitamins and injectables as well as medical devices. It applies paper or film pressure-sensitive labels to vials, bottles, syringes, auto-injector devices and other cylindrical packages. Compared to competitive labelers, the VR-72 changes over quickly, handling a new product size in as little as 15 min with no tools required, a single size part and integrated HMI recipes.
The VR-72 is fully servo-driven with a modular design. Products enter the VR-72 via a synchronized feedscrew and are held in place during label application by a vertical trunnion roller assembly, providing accurate and repeatable label placement. Unlike other systems that use a wrapping belt to apply labels, the VR-72 utilizes a vacuum drum label dispenser that runs continuously and helps hold each product with three contact points during labeling, which greatly minimizing label skew. The continuous motion of the vacuum drum also allows for a smoother tension on the label web to minimize web break and expand label and web material options. The vacuum drum can be run either clockwise or counterclockwise to enable one operator to manage left-hand and right-hand systems with the same label copy. Optional redundant label heads are available to facilitate high-speed labeling with zero downtime.
The VR-72 accommodates different types of code printing methods and inspection systems. It is capable of printing lot numbers, expiration dates and 2D codes, with or without serialized data. WLS's patented label Reconciler automatically tracks and removes out-of-tolerance labels from the vacuum drum prior to application onto the product. A variety of reject options are available for the VR-72.
The VR-72 is equipped with a 15-inch color touchscreen HMI. Optional 21 CFR Part 11 compliance with Audit Trail, Domain Authentication and various types of data collection are available.
Companies in this article