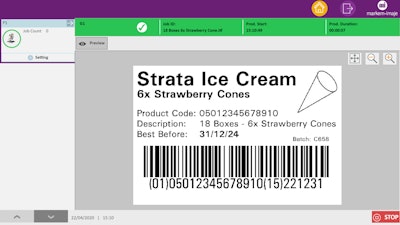 It minimizes the scope for operator error, since label data and formats can be more easily controlled. Downtime is reduced by the ability to preview and adjust labels digitally. It is also improved by a large intuitive touchscreen which helps operators work more quickly.
Markem-Imaje's 2200 Series Print & Apply (P&A) labeling system for cases and pallets has long been proven to save up to six days downtime per year. The launch of the Production Interface builds on this through a combination of new features which limit the potential for operator error, speeding up changeovers even further while reducing rework and recall likelihood.
The Production Interface's large touchscreen also shows exactly how variable content will appear on the eventually printed label. If needed, operators can easily make six types of minor adjustments, such as label position and print contrast, digitally via the interface. In other labelers such setting changes can be so difficult to access that operators commonly resort to manually moving the printer product sensor which can result in equipment damage and personal injury.
The highly streamlined and intuitive, full-color interface also makes it quicker and easier to switch between jobs and deal with other printer issues. Operators are no longer distracted by extraneous detail of limited use in day-to-day printing. Available in 10.1 in. (261 mm) or 15.6 in. (396 mm) touchscreens, color-coded printer statuses are more visible at a distance so problems can be spotted and addressed without delay.
Warnings and alerts can easily be viewed in the user's chosen language which also speeds up problem resolution, without needing to look up complex error codes.
The entry-level Production Interface can control one 2200 Series P&A system while the advanced version can handle two on the same or different lines. The CoLOS Line Terminal variant can manage up to four printers of any type (not just P&A) while also deploying other applications, such as COLOS Mark & Read and CoLOS Printer Performance, for the ultimate solution in accuracy, traceability and efficiency.
Companies in this article