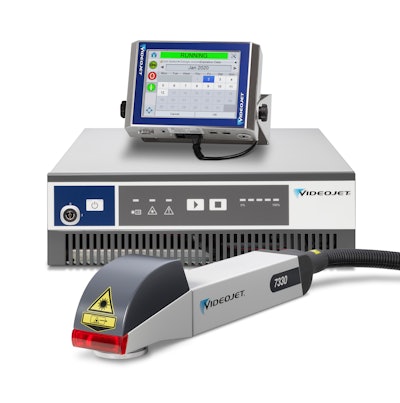 The powerful marking solutions are up to 44% lighter than similar fiber lasers from other providers and give manufacturers marking versatility.
Videojet understands manufacturers' varying needs for coding and marking on parts, consumer packaged goods, and pharmaceutical products, and has specifically designed the new 7230 and 7330 fiber lasers to meet their unique coding requirements. The lasers are ideal for demanding production schedules within these markets, as manufacturers need marking systems that can keep pace and provide a high level of code contrast on robust, high-density materials.
Available with 10 and 20 w of output power respectively, the Videojet 7230 and 7330 fiber lasers provide increased productivity and operational freedom through several enhanced features.
Videojet fiber lasers, due to a combination of improved data processing speeds and marking speeds up to 2,000 characters/sec, depending on the application.
These new lasers provide seamless integration into the production line. Users can choose to control the Videojet 7230 and 7330 using Videojet Touch Control Software+ (TCS+) on the IP65-rated TU430 10.1-inch color touchscreen laser controller or on most browser-based devices. Another option is the advanced Videojet CLARiTY™ Laser Controller featuring an intuitive touchscreen and CLARiTY software that is also used with many other Videojet marking and coding solutions.
"Manufacturers can benefit from a lightweight, compact and agile fiber laser solution, offering versatility in tight spaces," said Sascha Ammesdoerfer, Laser Business Unit Manager at Videojet Technologies. "The option of a zero or 90 degree marking head orientation provides flexibility on production lines with space limitations. The 6 mm marking head has the smallest laser head dimensions in the industry."
Both the 7230 and 7330 help to minimize downtime and increase productivity with an air-cooled laser source that virtually eliminates maintenance intervals. The lasers also use no consumables such as inks, solvents or compressed air, and contain no wear parts to replace. The Videojet 7230 and 7330 fiber laser marking systems enhance the Videojet fiber laser portfolio while offering manufacturers operational freedom.
Companies in this article