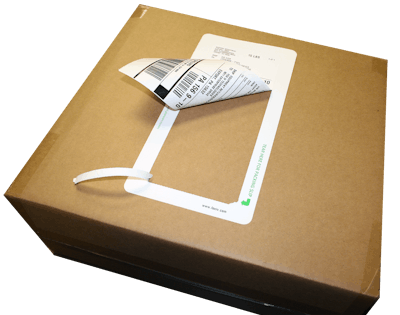 "The MOD 12 Series was designed specifically for customers that need to put extra information on either side of the dual sided label," says Ed Fox, Director of Sales for FOX IV Technologies. "Information such as routing bar codes, internal inventory codes, as well as specific order and delivery information can be added to the visible shipping side of the label in addition to the standard shipping format. The added length can also be used for listing extensive items on the packing list side, messages, and promotions. The addition of the Printer-Applicator to the MOD 12 series enables automated lines to use TwinPrint® technology."
Like its sister units, TwinPrint® MOD 12PA improves shipping speed and efficiency by eliminating the need for separate packing slips and their associated costs. "Up to a 200% throughput increase in throughput speeds can be achieved by moving from a TwinPrint® Desktop to the Print and Apply system," says Fox. By printing the shipping information on the top side of the label and the packing list information on the underside, separate packing slips and envelopes are eliminated along with the time and labor costs to print, match, fold, and insert the packing list into the shipping container. Additionally, because the majority of the label liner is repurposed as the packing slip, up to 60% of label liner waste is removed from the waste stream.
In addition to shipping and packing slip information, the 12 in. TwinPrint® labels can also be used for promotions, coupons, and return information.
Companies in this article