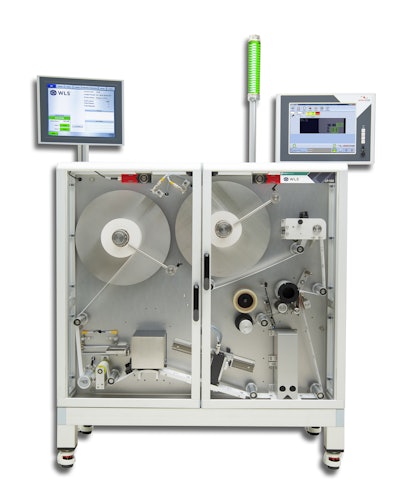 Applications include printing variable data on pre-printed labels and on-demand printing the entire label from 'bright stock,' as needed. Achieving superior print quality and print wear resistance on most substrates without the need for a protective top coat, the LP-100R is capable of producing the highest graded codes.
"When we took our prototype LP-100 to Pack Expo Las Vegas last year, prospective customers responded extremely favorably. We then launched an in-depth market study to identify the exact capabilities that were wanted. The LP-100R we're now introducing is the culmination of that activity," said Ted Geiselman, Business Development for ProMach's Digital Printing Solutions.
The CE-marked and UL-certified LP-100R is ideal for manufacturers and contract packagers of over-the-counter (OTC) and regulated pharmaceuticals, nutraceuticals, diagnostics, medical devices, biotech and other products around the world.
When combined with an appropriate vision inspection system and WLS' optional 'reconciler,' the LP-100R will automatically remove any out-of-tolerance labels from the label roll. WLS can equip the LP-100R with no vision system or virtually any standard or customer-specified vision system for inspecting variable data. For whole-label printing applications, a specialized new whole-label vision inspection system was developed.
Making its global debut on WLS' LP-100R is Antares Vision's new Total Layout Control (TLC) vision inspection system for narrow webs, which is comprised of a line-scan camera, computer, HMI and software. Designed specifically for the LP-100R, the narrow web TLC is capable of whole-label inspection, including image matching, code reading and color verification. Emidio Zorzella, the CEO at Antares Vision, commented, "We are thrilled to collaborate with WLS on this exciting new product development effort. Our TLC is a perfect fit for this application."
The LP-100R can handle a label roll size up to 18 in. (457 mm) in diameter with a 3-in. (76-mm) diameter core. Featuring balcony-style construction and an integrated electrical enclosure, this compact label printer is designed to meet the requirements of pharmaceutical and medical device manufacturers.
Print changes are quickly made via recipe downloads on the color touchscreen HMI. Label styles can be changed in less than five minutes with no tools required and no change parts. Low level, end-of-web and broken web detection can be programmed to flash a light and/or send an alarm to operators. The HMI is password protected with multiple levels of access to help secure the operation. Equipped with Ethernet ports, the LP-100R can be connected to plant-wide networks to share data for reporting purposes and enable remote diagnostics.
Like the stand-alone LP-100R, the new LP-100L features the same printing, vision and reconciliation capabilities. Unlike the LP-100R, which rewinds the printed labels onto a roll for off-line printing, the LP-100L feeds printed labels directly to virtually any labeling machine.
WLS supports their LP-100 series of label printers with an industry-leading warranty and world-class technical service. WLS provides inks for their LP-100 printers and supports customers in identifying the appropriate substrate for their needs.
Companies in this article