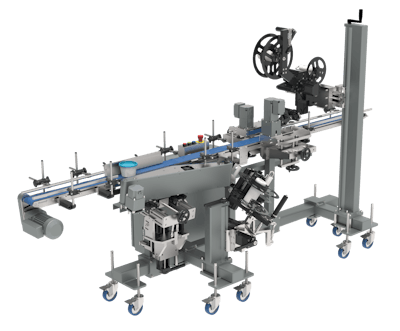 This is accomplished by using a unique vacuum wrap belt which gently applies the labels around the products, while a dual wiping mechanism ensures the labels are firmly secured. Within the same system, a second labeling station can be incorporated to apply a label into the recessed lid of the package. This eliminates the need for a second labeling application area.
The LSI-9135 joins ID Technology's 9000 Series and becomes a standard offering in a space where model customization was previously required for tapered container application. The result provides customers with a more cost-effective labeling machine and quicker delivery without sacrificing quality. Being built on the 9000 Series platform, the LSI-9135 is well-engineered and designed for simple installation, maintenance and ease-of-use.
Due to tapered containers gradually narrowing in circumference on one end, labeling a container's side can become problematic and cause normal labels to skew or wrinkle when applied. ID Technology's inline bottle wrap labeling system, however, is able to quickly and easily label the most difficult-to-handle tapered containers. In addition, the LSI-9135 system incorporates ID Technology's M-Series high-speed labeler for flexibility and dependability, allowing it to fit any production environment and handle most label sizes. Like other 9000 Series labeling systems, the LSI-9135 can also be integrated with laser coders or thermal transfer overprinters to add variable information.
Companies in this article