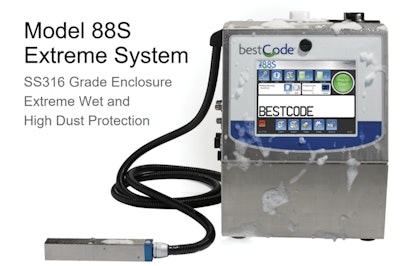 System prints at high speeds and handles 1, 2, 3, 4 or 5 lines of text, barcodes or graphics. A complete range of dye and soft pigmented inks are available in a variety of colors for a wide range of applications. Typical applications mark and code one, two or three shifts per day or 24/7 operations, five to seven days per week, averaging 4,000 – 8,760 hours of annual operation. Utilizes integrated RS232 and programmable inputs\outputs for remote control and communications.
Print speeds are up to 1500 ft/min. (470 meters/min.) for single line of print, up to 345 ft/min. (108 meters/min.) for two lines of print, up to 173 ft/min. (54 meters/min.) for three lines of print, up to 119 ft/min. (36 meters/min.) for four lines of print and up to 114 ft/min. (35 meters/min.) for five lines of print.
Systems are simplified to allow anyone to operate, minimizing operator touches, extending time between human interaction.
• CleanStart—automatically cleans printhead, eliminating daily and weekly cleanings.
• 10.4 in. color touchscreen—always on, vivid display with large intuitive buttons and status indicators.
• OneTouch—single step operator functions reduce operator steps.
• Large Volume Ink Tanks—extend time between fluid additions to weeks or months.
• On-the-Fly external ink filling—accomplished in less than a minute with no waste.
Companies in this article