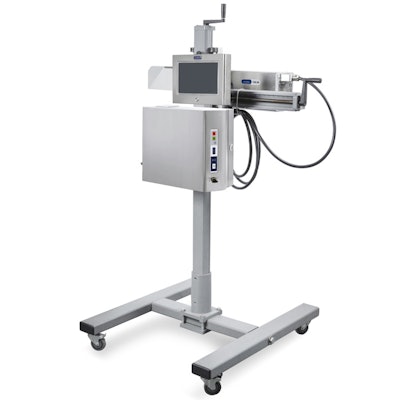 The Linx CSL10 (10 watt) and CSL30 (30 watt) laser coders feature a new, more powerful processing board that is able to relay the message from the control unit to the marking head more quickly, delivering higher speeds. Equally important, the coder can handle complex messages and graphics without any loss of quality, ideal for the requirements of high speed packing and bottling lines. Both models apply crisp codes onto many different packaging materials including coated paper and card, plastic, glass, rubber, coated metal and anodized aluminum.
A new marking head has been introduced for wide web applications, enabling the coders to code across multiple lines using just a single laser where previously two machines would have been required. An area of up to 440 mm x 600 mm can be coded – ideal for applications such as flexible sheet for lids.
In addition, a wider range of marking heads and positions mean that the Linx lasers offer over 20,000 standard configurations, and can therefore be tailored to the precise requirements of each coding application. This unique feature makes the Linx CSL10 and CSL30 the most versatile laser coders available. Tailoring the laser application to the customer's precise requirements means optimal use is made of the laser system, contributing to the lasers' long tube life.
An increased choice of conduit lengths – 3, 5 and new 10 m sizes – together with a new more flexible conduit design, detachable marking head, connectors and conduit, and quick disconnect umbilical cable, have made installation of the coders easier, particularly where the lasers cannot be placed close to the power supply or where space is limited. These same features speed up service times and make it simpler to relocate the machines in the factory. Both models can be specified in an IP65 version, allowing the coder to operate in harsh, wet and dusty environments such as frozen, dairy, beverage, chemicals and construction.
Companies in this article