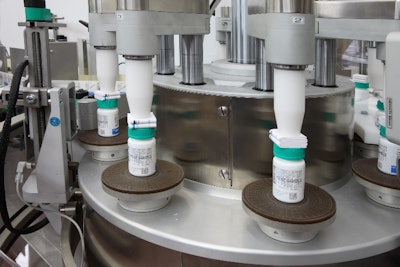 Both machines have their own traceability system that continuously monitors the products throughout the entire packaging process.
Vision systems installed on the vial labeler and on the casepacker monitor the products from the initial coding phase of the individual unlabeled bottles through the palletization phase of the filled and sealed cases. The machines operate with "Fail Safe" logic to ensure that all non-conforming products are rejected.
The RE302 labeler is said to provide total accessibility and visibility. Size changeover is quick and easy thanks to special digital indicators; label application is precise and any non-compliant products are rejected automatically. The labeler also provides versatility and speed: the line is able to process an extensive range of containers with round or rectangular bottoms and is able to process up to 200 containers/min.
Robotics provides versatility and reliability, and completes the line. The MCPV 850 top-loading casepacker features a robotic end-of-line pick & place head that places the vials in the case. The Gigacombi is a custom-built robot for the palletization zone.
Companies in this article