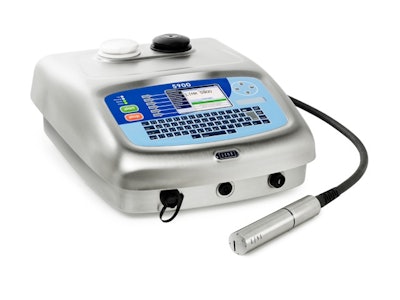 The Linx 5900 provides flexibility and consistently reliable coding, very low maintenance costs, and extended service intervals of up to 6,000 hours. A variety of additional enhancements are available that can be incorporated at any time, avoiding the need to purchase a whole new printer.
Among its new features, the Linx 5900 offers 1000 message memory store and built-in USB for fast code changes. For reduced coding errors,  the large and easy-to-use color user interface provides prompted coding fields for quick and easy message creation, and the SureFill system helps ensure mistake-proof fluid refills.
The Linx 5900 also provides a cost-effective and predictable maintenance program.  Service intervals are up to 6,000 hours and each service requires fewer parts to be changed, and minimal printhead maintenance.
Additional features can be easily added to the Linx 5900 at any time to cope with new production line requirements.  Faster print speeds can be incorporated to meet increased throughput.  Message creation and control can be further enhanced with Linx Insight software for remote monitoring and message input from a smart phone or PC, and Linx QuickSwitch for code changes using a barcode scanner.  Full line integration can be achieved using Ethernet connectivity to control several Linx 5900s from a PC or by adding parallel I/O connectivity to link the printer directly with other production line equipment.
The Linx 5900 minimizes downtime with the  adjustment-free sealed printhead, which has no exposed wires and requires minimal maintenance.  The printhead also incorporates Linx's self-cleaning FullFlush technology that helps ensure first time start-ups.  The dirt trap-free IP55 rated enclosure, with no doors to open for refills, prevents contaminants getting into the printer to further reduce the risk of unscheduled stoppages, and helps to ensure a cleaner working environment, particularly important for food, beverage, pharmaceutical and cosmetics applications.
The Linx 5900 is available in four models: the standard model; BC and DC versions for bottle and dairy applications respectively; and the Linx 5900 Solver, for reduced solvent consumption of up to 40%.
Companies in this article