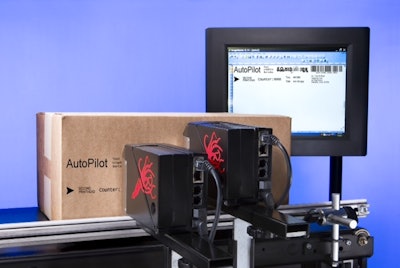 AutoPilot uses Xaar piezo technology to print up to .7-in. of hi-resolution characters, razor-sharp text, scannable bar codes, and quality logos at 180 dpi. The 12.1-in. full color touchscreen controller features easy-to-follow user prompts to program, save, and print messages. Programming and editing can be done right at the production line, or at a remote PC, and uploaded to the AutoPilot via USB.
The AutoPilot's ink system features vacuum tension technology and eliminates ink lines and fittings. The ink system allows the AutoPilot to print in a horizontal or downshooter position, or any angle in between without making changes to the printing system. Ink is supplied in 200ml no-mess cartridges, which is nearly 5 times the volume of competitive printing systems, according to the company.
The AutoPilot is UL, CE, and CSA certified.  The durable touchscreen and resin printer allow the AutoPilot to operate in extreme factory environments. Squid Ink's PZ-1000 ink for porous substrates offers low-maintenance performance to eliminate the need for auto-priming functions. A complete library of solvent-based inks are also available for printing on a variety of non-porous substrates.
The AutoPilot is said to produce 30% larger print than competitors.  It also offers the ability to upgrade to a 2ndprinthead, message programming via touchscreen user panel, the ability to print bar codes with standard systems, and the ability to print on a variety of porous and non-porous substrates. The AutoPilot utilizes ink manufactured by Squid Ink.
Companies in this article