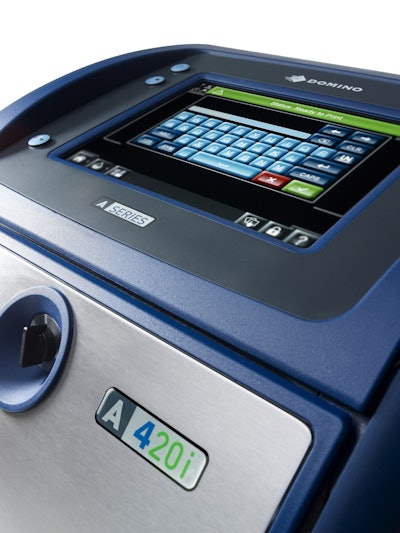 The A420i now provides new specialist and custom inks that have been designed to optimize performance in the most demanding applications including washable and moisture resistant inks for the beverage sector, thermochromic color changing inks for the food canning industry, inks with high adhesion and anti-abrasion properties for PP and PE surfaces, as well as fully compliant specialist inks for the food and healthcare industries.
Integral within both the A320i and A420i models' smart features maximize output by eliminating preventative maintenance to reduce costs, simplify production lines and increase Overall Equipment Effectiveness (OEE).
The combination of the i-Tech ink system and SureStart print head with its autoflush and nozzle sealing process provides consistent performance and contributes to significantly lowering operating costs as well as reducing the printer's environmental impact. 
The use of ink Qube eliminates the need for conventional service by using easily replenished consumables in which the ink and filters are separated from the pump and associated electronics.  This allows for a clean and simple change of ink and filters without having to discard viable, functioning mechanical and electrical components. Additionally, the annual Qube replacement is carried out in less than ten minutes and can be easily completed by production staff.
The standardized QuickStep interface minimizes operator errors and speeds up printer set up through simplified set up routines requiring minimal involvement.  Operators can also choose from a full-color touchscreen or membrane keypad, while multiple printers can be controlled via a remote color TouchPanel, a web browser or a PC application. 
The A320i and A420i are simple to integrate into complex and challenging environments thanks to a wide range of I/O options while its GAMP5-compliant security management provides simple control of who accesses the printer and at what level.
Both models within the A-Series i-Tech range have also been designed to minimize its environmental impact, with all sources of waste energy and resources being taken into consideration.  The models'service-free nature and the use of intelligent technology for ink and solvent management all contribute to reduce the lifetime carbon footprint of the printer.  In addition, both models include a number of advanced energy-saving software to shut down the printer automatically when idle.
Companies in this article