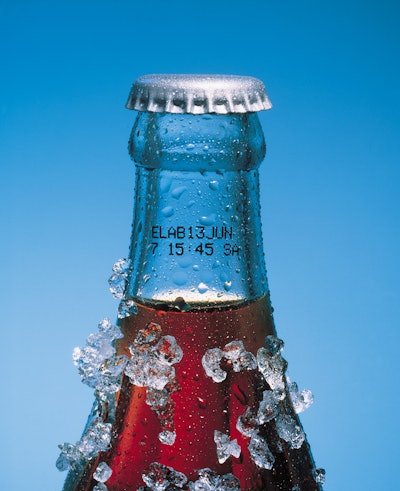 For its Videojet 1710 printer, the V489-C pigmented black ink is formulated to resist ink code transfer when printed onto light-colored extruded cables and wires. The ink is also suitable for coding onto metal food cans and flexible film pouches that are stacked during the retort cooking process— reducing the risk of product-to-product ink transfer that may sometimes occur with dye-based inks.
Black heat-cure Ink is a heat-curable, high-performance black ink specifically designed to enable printing onto industrial parts and components that require solvent resistant codes and/or exceptional code durability.
Designed for beer and beverage glass bottlers, black returnable bottling Ink improves ink code adhesion when printed onto cold-filled, returnable glass bottles, but also can be removed easily during a standard caustic wash process employing commonly used wash additives such as a surfactant or a detergent when bottles are returned for refilling. As soft drink and brewery bottlers continue to reduce "no-code, no-run" production lines, the V413-D black ink helps by providing quality overall ink adhesion to assure product traceability. And with easy-to-read "best by" codes that are reliably printed, distribution partners are able to efficiently rotate stock at different points throughout their supply chains. This helps reduce waste from out-of-date product and ensures the freshest product is stocked on store shelves.
Companies in this article