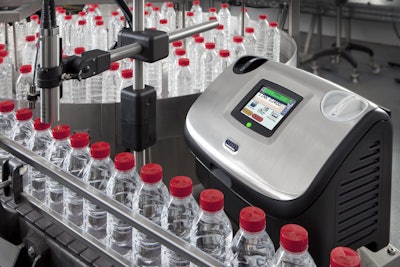 The CJ400 features the Easi-Change service module:  scheduled maintenance is easily completed without the need for service calls. All relevant parts are housed in an easily removable box, with no wires or pipes to disconnect and no need to expose other critical components during servicing.  Its compact, lightweight (under 30 lbs.) design makes this a very portable printer. 
One-step set up with simple prompts enables users to start coding right away, and easy-to-follow step-by-step message creation and editing is accomplished without manuals.   4 line settings can be saved for up to 4 production lines to allow quick change over for multiple production line applications. Options include standard 1 to 2 lines of text with 3-line, carton coding and Ethernet option.  PrintSync's simple automatic message style selection provides the best possible print quality at different line speeds. 
USB message and printer back up allows easy sharing of messages and settings between printers. Users are able to download bitmap logos to the printer via USB for custom printing.  On startup and shutdown the CJ400 will perform an automatic flush cleaning of the printhead and lines, insuring a reliable one-button startup.  SureFill fluid replenishment provides fast, mistake-proof refills while printing to ensure maximum uptime.  A 62-micron printhead nozzle can save up to 40% ink usage compared to other CIJ printers. Solvent consumption is also reduced by up to 33%.  LINX CJ400 has the capacity to store 1,000 typical messages used in production.
Companies in this article
Videos from Diagraph, An ITW Company