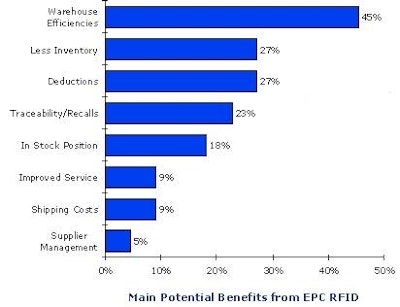 Unfortunately, the ARC Advisory Group study shows that for manufacturers and distributors selling to large retailers, radio-frequency identification has a much lower return on investment for them than for their retailer customers. The situation is made more difficult because the technology is immature and current suppliers of tags are unreliably supplying a poor quality product, according to the study.
Only one company interviewed believed it could have RFID payback in less than a two-year period. The remainder believed the payback period would be greater than two years.
Based on the feedback of RFID pioneers, this study offers companies facing RFID mandates concrete recommendations that can conservatively lead to savings of hundreds of thousands of dollars.
Companies facing RFID mandates need good information to make the right choices. This study answers the following questions:
How should our company approach the initial RFID mandate meeting with the retailer?
What are the current processes companies are implementing to become compliant? How will these processes change over time?
Who are the main technology partners in this area? How happy are companies with these vendors?
What is the ROI of RFID? What is the cost of preparing the RFID infrastructure? What are the most realistic benefits from RFID?

More information about the RFID Deployment study is available at the ARC Advisory Group Web site. A hard copy of is available for $1꽤, while an internet link to the study is available for $1꽤.
Companies in this article