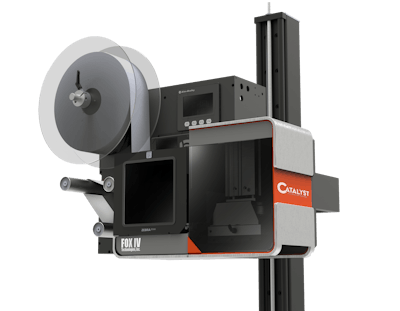 Linerless labeling systems have been around for a while. What sets the N6954 apart is the unique Catalyst adhesive technology that comes from a firm called NuLabel Technologies. This adhesive system uses label stock with a special dry adhesive that is activated with a spray of a water-based solution only after thermal-transfer coding has taken place and the label has been cut from its continuous roll. The in-plant operational advantage this brings is that it means no sticky adhesive is traveling through the printer applicator and sticking to rollers, cutting tools, or the print head, something that has tended to be a drawback where linerless labels are concerned.
An added advantage is that other linerless label stocks must be top-coated with a release agent to prevent the stock from sticking to itself. The Catalyst label stock, including the activation solution that gets sprayed on, is less expensive than traditional linerless label stocks as well as conventional pressure-sensitive labels. Another compelling comparison with pressure-sensitive labels is this one: The N6954 holds a 13.75"€ roll of Catalyst label stock, which is the equivalent of 6,200 4x6-inch labels. That's about 2,400 more labels than a standard 14 inch roll of pressure sensitive labels.
But wait, there's more: Because there are more labels per roll than traditional pressure-sensitive labels, roll changeovers are minimized and production time is maximized. Not to mention the fact that by eliminating the label release liner, thousands of pounds are removed from the waste stream.
Companies in this article