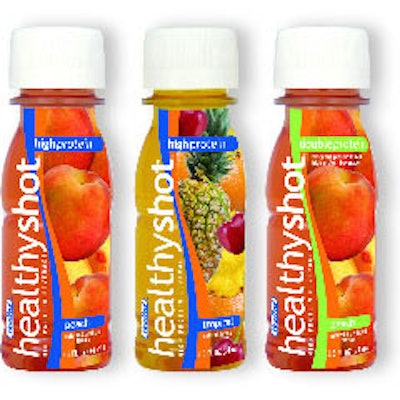 Hormel Health Labs, a Savannah, GA, subsidiary of Hormel Foods Corp., is launching its healthy shot™ high-protein healthcare beverage in a unique 2.5-oz PET bottle produced at the Nicholasville, KY, facility of Amcor PET Packaging. Amcor says Hormel is breaking new ground with the "introduction of the industry's smallest hot-fill PET container."
Hormel Health Labs focuses primarily on specialty products for hospitals, nursing homes, and rehabilitation centers. One of the primary concerns in nursing homes is weight loss among aging patients who do not consume enough protein. Many patients usually drink only half or less of an 8-oz milkshake-type product that contains 9 grams of protein. With the new Amcor PET bottle, Hormel can pack as much protein as possible into a concentrated package that is sized right for patient consumption. The high-powered, fruit-flavored drink contains12 grams of protein into those 2.5-oz, and no less than 24 grams into its double-protein formulation.
Amcor adapted its proprietary hot-fill technology, used primarily for large containers, to create a relatively simple cylindrically shaped bottle to meet the needs of the specialty healthcare beverage market.
"Perhaps the most difficult part was getting heat-set properties into a bottle that size," explains Kirk Maki, Amcor project engineer. "Vacuum control in hot filling and cooling is the other critical issue, which also required considerable manipulation."
Controlling the process
From the start, Maki knew the standard process would require a change, so many hours of up-front testing and engineering was devoted to the design. "We had to take a step back and determine how we were going to get the process control we needed on a much smaller container. In theory, two over one equals 10 over five, but in practice it is very different.
"First, we had to modify our equipment and add specialty machine controls. We had to downsize and modify the tooling to create a scaled-down version of how we would normally process the container in order to drive heat-set properties to a level high enough to prevent deformation under the heat. We accomplished what we set out to do. The heat-set testing has come back at levels equal to or better than some of our other larger heat-set containers," Maki says.
He acknowledged there were challenges with the overall bottle design relating to vacuum control. Testing and calculations based on container diameter were run up-front to ensure that specialty paneling wouldn't be needed. The paneling was fine when initial hot filling and cooling trials were run, but "the panel rib design had issues. Nothing critical, but we felt it just wasn't quite right," Maki adds.
So the team modified the rib portion of the design. In the process, they developed a smooth area of labeling. "If you make a container that looks good with a wrap label, it will look great in a shrink label," Maki notes.
Breaking the mold
Maki says the mini bottle's finish area added to the complexity of this project. Whereas the standard finish recalls an earlier PET era, it is not the kind of heat-set finish typically found on a store shelf
"When you have a relatively large 28-mm opening on a 2.5-ounce container, compared to a 43-mm opening on top of 500-ml bottle, you can't simply transfer technology," explains Maki. "Although it is not as light in weight as some newer designs, it has a versatile finish. What allowed us to use it here is the fact that the bottle is small, so there's relatively little heat capacity."
The closure itself is a standard design, borrowed from beverage packaging for this healthcare application. Compared with other bottles on the market today, which have smaller 20-mm finish, the larger 28-mm finish on this bottle makes it easier for patients to drink from.
Because this hot-fill bottle is so small compared to others on the market, it takes custom equipment to fill. Not many fillers are currently set up to do it because there hasn't been a demand for hot-fill in bottles this size. "We know it's a little difficult to maintain the heat when filling small containers while also maintaining throughput," says Chris Curtis, Amcor PET account manager, North East. "Most of the hot-fill in the industry has been with much larger containers."
Companies in this article