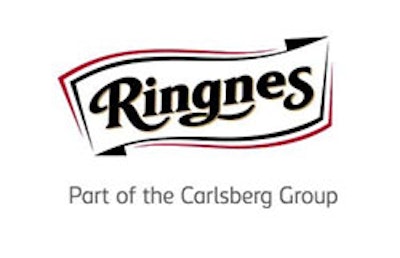 Across Norway, retailers and restaurants rely on Ringnes, a division of Carlsberg Group and the country's largest brewery, to provide almost half a billion liters of beverages annually, including beer, soft drinks, and bottled water. In addition to its own offerings, Ringnes is the sole distributor of PepsiCo beverages in Norway. With shipping volumes as large as these, Ringnes has to make its deliveries reliable and accurate for its customers.
It was for this reason that a decade-long interest in RFID recently became a reality for the brewer-distributor.
Carlsberg had looked into RFID 10 years ago when management saw the potential for benefits and savings using the technology, but costs were too high to justify implementation, according to Ringnes process development manager Jon Kvande.
In late 2008, with lowered pricing for RFID technology and a clearer business model, the company moved forward on a pilot program to tag and track large shipping containers of product. These large fiberglass containers are delivered on trucks from its Oslo facility to customers in Norway. Each 10 x 2.5 x 2-m container holds the kegs, cans, and crates of bottled product destined for a particular customer, including hotels, restaurants, and supermarkets. A container may have as many as 21 EU standard pallets, with each pallet holding 50 or 60 crates or trays with cans. After the pallet is unloaded at the customer's site, returnable kegs and glass bottles are loaded for the return trip. About 175 truckloads leave the Oslo facility daily, with about 200 out on the road at any one time.
Some 300 large containers have an RFID tag mounted on the interior along the side and back, with each 10 x 2-cm tag encased in a hard plastic housing.
Time for real time
Prior to this, Ringnes had never had a real-time overview of the exact location of the containers used to transport both beverages and empty bottles returned by stores. Now, Ringnes is using RFID technology that enables the company to track the arrival, departure, loading, and unloading of each container at its Oslo facility. Before, Ringnes employees tracked containers using manual logs. The exact location of a truck could only be determined visually or by phone, a methodology prone to errors and bottlenecks.
"The specific goal of the project was to get a better overview of what containers we have available and where the containers are in the flow," says Kvande. "We had kind of lost control over where they were at each time and when they were coming back to us, including which had containers and which were empty. We now have better control over where our containers are located. If RFID provides a payback, that would be nice. But if it doesn't, we would have at least learned something about the technology."
Benefits in abundance
Ringnes has experienced several benefits with its RFID deployment, including better asset management. For one thing, the company discovered that it did not require as many of the large transport containers as it had thought.
"We don't want to invest in containers if we don't need them," says Kvande. "We are able to use fewer containers than we would have if we didn't have this system."
It has also seen some unexpected labor savings, too. "We are not having people looking throughout the yard for specific containers, whether they are to be loaded or unloaded," Kvande points out.
It also uncovered some surprising production-related advantages. "We now have better control over what kind of returns and on what container they are located," explains Kvande. "We can get those returnable containers into production faster and don't have to halt production."
A next step is to have the RFID software communicate with Ringnes' other systems, such as for its warehouse and yard management. Kvande hopes that happens in 2010. Further on down the road, he foresees the advantages of pallet-level tagging.
"We have learned a lot," summarizes Kvande. "As we have progressed with this project, we have seen more areas where we could use this technology."
It seems that when it comes to RFID, Ringnes' "glass" is more than half full.