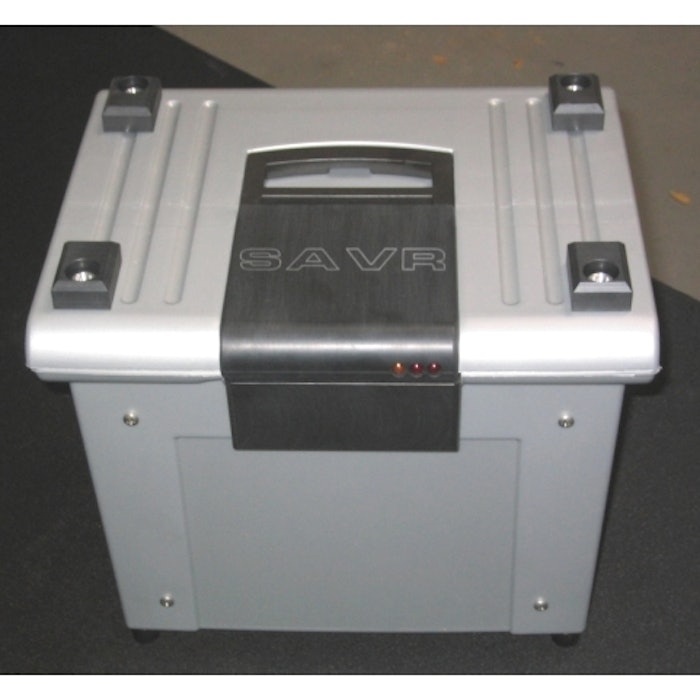 SmartContainer® from SAVR Communications was introduced in September as a modular, high-tech approach to track-and-trace security. It is applicable for high-value pharmaceutical, medical, and other sensitive products in the supply chain.
Companies are already testing the SmartContainer in cold chain and high-end pharma applications, according to SAVR vp and general manager Adam Crossno.
It employs modular systems configurable with options for RFID, Wi-Fi, GSM (Global System for Mobile Communications), CDMA (Code Division Multiple Access) on a satellite-enabled operating platform. The unit can communicate its position in real time and conduct inventory of the contents when desired.
Features include:
Built-in 13.56 MHz (high frequency, HF) RFID reader to capture the information of the shipped items.
Reader interface and locking mechanism.
USB port access permits convenient transfer of collected data.
The upgradeable SAVR software permits users to access and track shipments through a single portal access.
Various SmartContainer sizes are available, with 11-L, 27-L, and 36-L sizes (approx. 3, 7, and 9 1/2 gal) the initial focus, Crossno says. Depending on the size and features, pricing ranges from $3,000 to $6,000. Crossno says they would consider a leasing arrangement if a company was interested in that option. Refrigerated units are available, with temperature sensors embedded to record and alert when deviations occur. The expected life for the reusable units is five to 10 years, he adds.