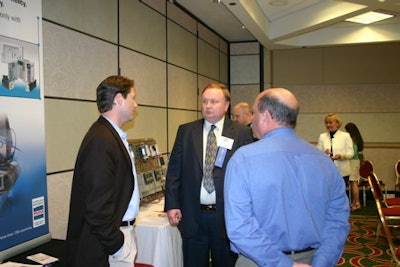 Packaging Automation Forum: a pharma perspective
In Part 1 of our coverage of the first Packaging Automation Forum we learned why The Hershey Company opened up its control specifications and the business advantages they gained as a result. This report will explore the similar experiences of pharmaceutical presenters.
Communicate requirements
Brad Neuroth with Wyeth Consumer Healthcare emphasized the need for packagers to communicate their requirements determine the right direction and blend the appropriate technologies. He noted that it's difficult to standardize on just one technology. In Wyeth's regulated GMP processes he listed proper fill and lot/expiration date labeling tracking systems for downtime and machine faults and high quality data to plan amd measure the results of continuous improvement processes.
Modular software saves millions of dollars
Aubrey Hawkins from Eli Lilly shared his company's experience making batch process control software modular. He cited $3.5 million in savings primarily through not reinventing the wheel. Reusing prevalidated software modules means he doesn't have to test to the same level as new software. This does require engineering time up front to develop the modules he cautioned.
Build a strong foundation
When asked how he explained that Lilly wrote their requirements for modularity created a design around those requirements and only then performed the actual programming. Programs were implemented in multiple languages and equipment suppliers could offer their solution on multiple platforms because the design template was very clear.
Hawkins pointed to the Make2Pack initiative (www.make2pack.org) which seeks to define a central class of requirements regardless of control platform. Such a standard set of requirements he asserted allows plug and play both horizontally and vertically.
Networkable structures allow use of multiple platforms
Neuroth concurred saying his company has used Siemens Omron ELAU and Rockwell control systems and they all talk over OPC over Ethernet. The entire vertical integration is much easier he noted if the OEMs supply networkable machine structures.
Getting plant floor buy-in is critical
Mark Swatling of AstraZeneca noted that it is critical to make automation initiatives understandable and useable by the operators. He pointed to a variation on the DMAIC tool for six sigma process improvement that adds an "I."
The acronym stands for define measure analyze improve implement control. Swatling's emphasis is on "I" for implementation which he noted can be a stumbling block. He said that it all starts with data used religiously to drive process improvements.
Next up: beverage
In next week's PAF report we will hear the views of beverage industry packagers with speakers from Clos du Bois Winery Coors Brewing and Miller Brewing. Watch this space!
This report is brought to you courtesy of ELAU a proud charter sponsor of the Packaging Automation Forum. Maker of the PacDrive™ automation system ELAU is the world's only automation supplier to focus exclusively on packaging.
For more reports on packaging automation trends visit www.elau.com/packagingautomation.
Companies in this article