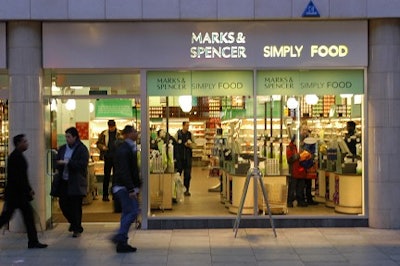 The Marks & Spencer retail chain, which has been an institution in the U.K. for more than 110 years, has benefited from the implementation of RFID initiatives in the form of reduced costs, faster processes, and fewer errors. And the company is pushing ahead with new pilot programs that use some of the most advanced UHF RFID technology available today.
Moving Up the Food Chain
The story of Marks & Spencer (M&S) and RFID begins in 2002 with the start of what would become one of the largest RFID installations in a food supply chain. The company was converting its fleet of 3.5 million returnable transit containers to metric dimensions. In Europe, these plastic returnable trays are used by many large retailers and their suppliers to transport chilled and ambient food such as fruits, vegetables and ready meals. But rather than just convert the tray size, M&S saw the opportunity to change the way orders are fulfilled, verified, and tracked throughout the supply chain.
"Changing our pool of trays was a huge opportunity for us to implement technology that could improve the efficiency of a system at the heart of what we do: supply fresh food to people on a very large scale," says Ian Mumby, M&S's Head of Supply Chain, Logistics & IT, Foods. "Therefore, the process of stock fulfillment must be as fast and efficient as possible."
In technology terms, the RFID network is simple but effective in addressing inefficiencies with barcode systems and in reducing the potential for human error in the pick and dispatch process.
When an order comes into a supplier warehouse from M&S, trays are filled and put through to a dispatch process. Information such as weight, price per unit, and expiration date are scanned into a centralized system via barcode. This information is compared against M&S order items and, if the information is correct, an RFID tag embedded in the food tray is written with product information. At this point, the trays are loaded onto dollies and pushed into a quarantined dispatch area.
As orders are taken from the dispatch area, information is scanned by wheeling carts of trays against an RFID antenna. Each tray is individually read and compared against the order file. If there is a match and the trays have not been previously read, the order is cleared for loading. This process continues until the order is complete ensuring that the loading order is accurate.
This process has significantly increased throughput of product, decreased processing time, and increased delivery compliance. For example, one supplier to M&S, Worldwide Fruit, has seen its compliance move from 99.5% to a consistent 99.98% in just three months. "The supply chain for food items like fruits and vegetables is time-critical so we already do everything we can to make the system efficient," says Mumby. "But this technology has really pushed accuracy to the next level."
Technology Drivers
This entire system is driven by a software system called Vision from U.K. RFID technology provider Intellident Ltd.
The Vision Pick Accuracy Verification (PAV) module is used to accurately and efficiently move and compare information between databases and a wide range of RFID reading and writing equipment.
"Intellident have worked closely since the beginning of the project with both Marks & Spencer and their supplier base to develop a range of RFID equipment and the Vision software platform," says Andy Chadbourne, Marketing Manager, Intellident. "Vision ensures that dispatches across the supply chain are 100% accurate in terms of the correct items arriving at the correct place at the correct time, and within date life."
In order to ensure that the RFID system was implemented efficiently and effectively across its 100+ suppliers in this food arena, M&S is working with
BT Auto-ID alongside Intellident. BT Auto-ID is a separate business unit within BT, one of the largest communications businesses in the world covering over 60 countries. BT Auto-ID has helped the retailer integrate RFID technology and processes not only internally, but with its supply partners as well.
"The Marks & Spencer RFID infrastructure is one of the largest in the world," says Geoffrey Barraclough, Marketing Director, BT Auto-ID Services. "We work with over 100 different suppliers who all needed to integrate this technology into the process. In the end, the benefits for both supplier and M&S are huge.
"We set up BT Auto-ID as a separate business to provide companies with an overview of what is available to them and how the technology will work within the system they have in place," continues Barraclough. "That is a huge part of what we do in working with M&S. We work directly with their suppliers to ensure that everyone is comfortable with the technology and it is being implemented with as little intrusion as possible."
Expanding the Technology
The success of the food program has sparked interest in other areas of M&S's business. The company is currently testing another, though quite different, RFID solution for its retail clothing division. "Marks & Spencer offers a wide range of styles and sizes to its customers," says James Stafford, Head of Clothing RFID at M&S. "In order to ensure that clothing is available in such variety, inventory needs to be counted regularly, quickly, and accurately."
M&S again selected BT as the main contractor to support the extension of this trial, together with Intellident as the RFID equipment supplier. It will continue to depend on BT to provide managed IT development services using its Auto-ID Platform as well as ongoing deployment and maintenance of mobile RFID readers to stores. Intellident will lead the product development and label quality assurance processes across the project.
RFID tags called Intelligent Labels™, utilizing expertise from Paxar are affixed to clothing by the supplier. The Intelligent Label uses microchips from Swiss supplier EM Microelectronic and French manufacturer IER to make the RFID inlays. These inlays, which operate at 869 MHz, are inserted into the Intelligent Labels holding a single unique serial number.
In the store, a mobile scanner is used on the shop floor to read the stock remaining every day after closing. The scanned information is transmitted directly back to M&S stock management system to ensure that the stock data derived from the Point of Sale bar code system accurately reflects what is in the store. Updated replenishment instructions are issued overnight to M&S's distribution center, enabling the store to be fully stocked the following day.
The hand held mobile scanner provided by Intellident operates at 869 MHz and transmits via Bluetooth to a compact MSR mobile UHF reading system that can be easily maneuvered through a store. "The mobile UHF system is at the cutting edge of this technology," says Barraclough. "It's compact and easy to maneuver, but is very fast and accurate in receiving and transmitting information."
As the mobile RFID unit is wheeled through the store, M&S personnel can use the hand-held scanner to read multiple RFID tagged clothing by passing the scanner past them on the rack. In this RFID pilot program, store personnel can operate the scanners at a distance of up to approximately two feet with 100% accuracy. The scanner can read the tags simultaneously, and at speed, allowing regular updating of stock information. The system also accounts for tags being read twice to eliminate duplicate entries.
The information from the mobile UHF system is transmitted immediately to the store's Local Area Network that reads the numeric coding and matches it with a database. The entire process of inventory checking with RFID is proving to be up to 20 times faster than previous methods, and M&S plans to expand the program from nine stores to 45 stores soon.
Putting Minds at Ease
M&S is aware that consumers may be wary of any private information being used for marketing purposes and may be alarmed by a device that can both read and transmit information. However, the tags used in the clothing pilot program do not transmit data unless it is specifically read by the scanner at a very limited range. The information contained is only numeric to match with the inventory database, the tag is meant to be removed after purchase, and consumers do not need the tag in place to return an item.
"Marks & Spencer wants to keep this technology as simple and as non-intrusive as possible," says Barraclough. "For this reason the retail transaction that could link the purchase to the consumer is never made. The solution very much focuses in on inventory control."
During the next phase of the trial, commencing in Spring 2006, the RFID chip will be integrated into the existing garment paper barcode label, which details the size and cost of the item, and will have the words "Intelligent Label for stock control use" clearly marked on it. Again, the RFID chip contained within it will not be read at checkout, so no association will be made between the information on the Intelligent Label and the purchaser's details.
M&S has gone to great lengths to explain the RFID technology to its customers, including an in-store informational brochure. "We are assuring customers that this technology is only in place to make our stores more efficient and to offer them better service," says Stafford. "RFID provides us with increased efficiency, but it also helps to deliver a better retail experience to our customers. After all, if we have our full range of products available for our customers, we have a better chance of gaining a sale rather than losing one."
James Krouse (jkrouse@abipr.com) is director of ABI Europe, part of the ABI group of companies with offices in New York, London, and Singapore. ABI specializes in business-to-business marketing public relations with a strong focus on packaging and retail technologies. For more information, visit www.abipr.com.
This article was adapted from Taking Stock in Merry England: U.K. Retail Giant Marks & Spencer Implements Two RFID Strategies, the cover feature of the September/October 2005 issue of RFID Product News, copyright 2005 by Lyons Media Inc.
Companies in this article