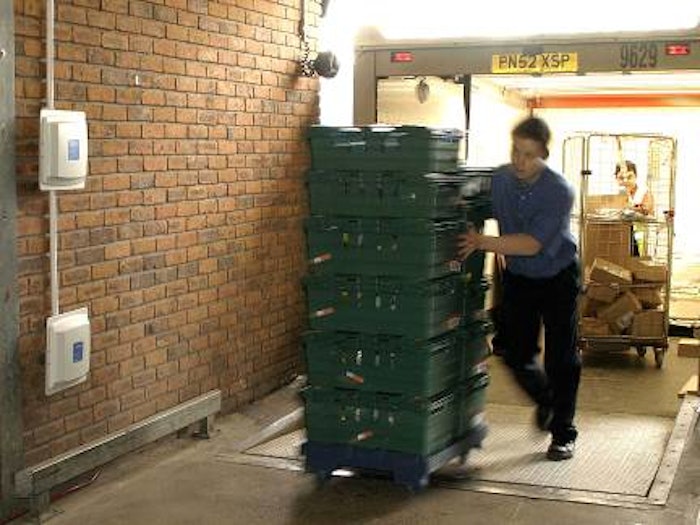 ADT Security Services announced in January 2005 the signing of a multiyear contract with Tesco UK as the supermarket chain's exclusive supplier of Electronic Product Code (EPC) Radio Frequency Identification (RFID) readers and antennae.
The first phase involves more than 4ꯠ readers and 16ꯠ antennae tags by fall 2005 for the dock doors and merchandise receipt points at approximately 1괌 Tesco stores and 35 distribution centers across the UK, with further deployment planned; this may potentially include the international Tesco business. Tesco is said to be the world's third largest retailer.
The contract is the largest publicly announced single order of RFID readers, and it follows the successful completion of Tesco's RFID pilot program.
RFID Antenna has learned that the readers ADT supplies are based on Mercury4s RFID readers developed by ThingMagic. ADT/Sensormatic licenses the reader technology and resells it under a "powered by ThingMagic" branding. Launched in June 2004, the Mercury4s readers are called "agile" since they can read any tag.
Our source points to this notably as a movement into deployment mode rather than testing, since large amounts of readers are also involved rather than just tags.
The tags used will be Generation 1 Class 1, though the tag supplier has not yet be identified.
Tesco's take on RFID
This solution will be a key enabler of Tesco's Radio Barcode and Secure Supply Chain programs, which promote increased product availability, reduced prices and improved customer service.
Colin Cobain, Tesco's information technology director, says "At Tesco, we continually look at ways in which we can make life better for our Customers. Radio Barcodes is a technology that we believe can help us do this. ADT successfully came up with the solution that meets the specific requirements of our supply chain and we have been extremely impressed with the trials run to date. Their pan-European capabilities are key to meeting our ambitious roll-out plans."
Companies in this article