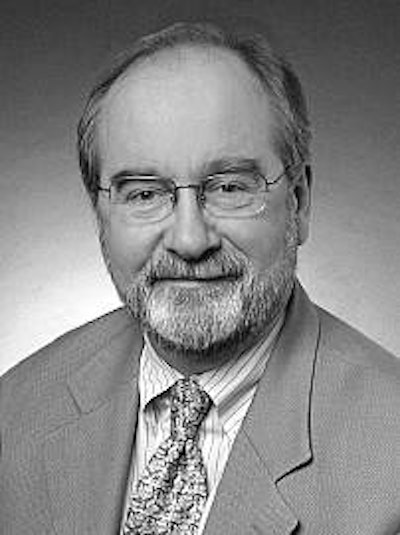 RFID Antenna exclusive: Among the more regrettable developments in the ongoing saga of RFID implementation is the emergence of what I like to call the Packaging Pushback Club. You know them. Packaged goods companies, mostly. Some are quite august, distinguished by their professed and very public commitment to such noble causes as the Auto ID Center, EPCglobal, and the glorious revolution that will soon sweep across the business world thanks to the wonders of RFID.
But lurking behind the public pronouncements made by the members of the Packaging Pushback Club is the fond wish that true implementation of RFID on tertiary, secondary, and primary packaging will somehow magically be put on hold forever. For the Packaging Pushback Club, it's all about pushing back, about making excuses, about throwing up roadblocks, concocting confusion, and generally muddying the waters instead of meeting the challenge of RFID implementation head on so as to enhance shareholder value. More than anything, it's about abdicating all responsibility where RFID implementation is concerned.
They're firm in their convictions, these members of the Packaging Pushback Club, supported as they are by fellow club members who are every bit as staid and intransigent as they. Why, this crowd has resisted every change since the bar code, and likely they'd have scuttled that if they'd had their choice.
Acting more like Luddites than leaders, the Packaging Pushback Club are now reaching new depths in their desperate attempt to defend their untenable position. They now look for others whom they can blame for the delays and setbacks that have prevented RFID implementation from becoming a marketplace reality. They look for scapegoats whom they can blame for letting them down and forcing them into pushback mode.
Scapegoat #1: Chip makers
Prominent on the list of those who should be blamed are the chip makers, even though most members of the Packaging Pushback Club have never met them, let alone supported them. The chip makers' sin? Failing to develop a chip that's inexpensive enough to use.
Scapegoat #2: Tag makers
Tag makers are also on the list. Haven't they failed to come up with a single tag that can be used across the board? "Will they never get around to bringing us the standards we need to make RFID work?" say the members of the Packaging Pushback Club.
Scapegoat #3: Consultants
Consultants, too, must shoulder their share of blame. Why? Because the Packaging Pushback Club members believe RFID consultants are hopelessly incompetent. (Here they may be on to something. Think about how many RFID consultants surfaced the minute Big Sam and Uncle Sam announced their RFID mandates. Is it even remotely possible that all of these "experts" know what they're talking about?)
Scapegoat #4: Corrugated case suppliers
Not content with blaming chip makers, tag makers, and consultants, the Packaging Pushback Club recently identified another scapegoat: suppliers of corrugated shippers. The grievance runs something like this: "We can't possibly consider RFID implementation until these cheap corrugated suppliers use what little capital they have left and change out all of my packaging machinery free of charge. We should be compensated, too, for the disruption we've had to endure as these corrugated suppliers use our packaging lines as glorified test labs. Why should we be asked to bear so much of the research and development costs that are apparently going to be required before RFID becomes a reality?"
And so, with unmitigated glee, the members of the Packaging Pushback Club add Corrugated Sales Guy to their growing list of THOSE WHO ARE PREVENTING RFID IMPLEMENTATION IN THE PACKAGING SECTOR. How shortsighted this blame game is. How much more useful it would be if the esteemed members of the Packaging Pushback Club would roll up their sleeves and take an active role in nursing along RFID implementation wherever and however they can. Fortunately, there's so much momentum behind RFID in the packaging sector that these obstructionists can only bring about a slight delay in its successful implementation.
Just remember, for every stodgy and benighted member of the Packaging Pushback Club, there's an eager and enlightened packaging player who can't wait to wring every conceivable business benefit from RFID technology. In my next column, I hope to share news from that camp.
John Greaves can be reached at 312/374-3463 or jogreaves@deloitte.com.
Companies in this article