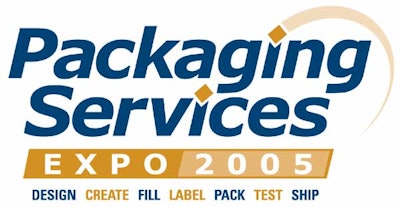 Billed as the one show for contract packaging and packaging solutions, the inaugural Packaging Services Expo (PSE) will take place May 10-12, 2005 at the Donald E. Stephens Convention Center in Rosemont, Chicago. PSE is organized by Tarsus Group plc, the international media group that also organizes the Labelexpo global series of events. The Institute of Packaging Professionals (IoPP) and Packaging World magazine will sponsor the event.
Exhibitors will offer the latest in manufacturing and packaging technology services across diverse end-user industry sectors. Visitors including blue chip companies, brand owners, and specialist manufacturers will be able to find outsourcing partners to handle product launches, recalls, upsurges in demand, packaging or product compliance, specialist filling, packing and labeling expertise, and fulfillment services.
Each morning of the show, keynote and specialist conference sessions will be held. Subjects will include how contract packaging and partner sourcing have proven helpful, reviews of new products and services, smart packaging solutions, and current compliance, legal, and quality requirements.
"Partnering with contract and service companies is a very important part of packaging, with 60 percent of all companies in all industries having gone to at least one outside group to complete their production cycle," says Don Browne, Packaging Services event manager.
Ed Landon, IoPP's executive director, says "seventy-seven percent of IoPP's members buy packaging services, including contract packaging, packaging design, package testing and more. IoPP members will come to PSE to meet the leading packaging service companies, at an expo and conference program dedicated exclusively to this fast-growing segment of packaging."
"Brand owners are increasingly looking for contract packaging and design solutions to help bring their packages to market," adds Joe Angel, PW's vice president and publisher. "Our own research shows a high percentage of our readers now specify packaging services, with a majority of those in upper management. This focused event will uniquely address this audience."
For more information on PSE, visit www.packservicesexpo.com; Don Browne can be reached at chime@tarsus.co.uk, IoPP at www.iopp.org, and Packaging World at www.packworld.com.
Companies in this article
Videos from Universal Labeling Systems, Inc.