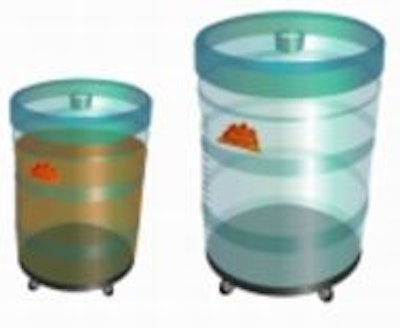 Packaging students from California Polytechnic State University, San Luis Obispo, CA, completed group class projects last month that involved developing new packages and containers. We will be highlighting several in the months ahead, including this month's design: a wheeled PET/ethylene vinyl alcohol beer keg that the students claim presents some functional advantages over aluminum.
The project is part of the university's Fundamentals of Packaging course. A summary is followed by a detailed report for those interested in further information. Contact program director Jay Singh, Ph.D., phone 805/756-2129, e-mail jasingh@calpoly.edu. Also visit PW's Web site resource page on packaging universities.
Summary of Klear Keg
The material: Transparent PET, rotational molding process, green or brown tints (for Ultraviolet light exposure), EVOH lining.
Features:
Uses existing taps
Has removable roller wheels
Has a scale that measures remaining contents in increments of 12 oz as well as by fluid oz
Offers a cup dispenser attached to the keg
Decorated with large, easy-to-read pressure-sensitive labels to identify the type of beer.

Inspiration: Existing plastic keg shells that are a solid black plastic beer bottles (with EVOH coating).

The students note that they hope this doesn't improve the university's standing on the "party schools" list.

The following detailed write-up is from students Greg Luther, Brendon Rogers, and Matt Kull.

Klear Keg report

The problem is that beer keg shells are solid aluminum containers, which may serve the purpose of containing the beer, but the keg content is a mystery.

The solution to this problem is to have plastic keg cylinders. These cylinders are made of a transparent PET (polyethylene terephthalate), so the consumer can simply look inside the keg and know exactly how much beer is left. It is now apparent if it will be necessary to purchase a second keg before the midnight deadline. These transparent plastic kegs have scales on the side; one side indicates how many 12-oz beers remain, the other scale indicates how many fluid ounces remain.

EVOH barrier

One possible problem regarding this idea that must be addressed is the principle of the plastic keg not being strong enough to hold the beer under high internal pressure. The response to this is that manufacturers are already producing plastic keg shells that are a solid black, nontransparent color and hold the beer without any problems. Another possible problem that may be encountered is that plastic containers simply do not hold the flavor of the beer as well as the metal kegs. This problem has been addressed in the plastic beer bottles that are being produced for baseball games and such. The industry has already come up with a special EVOH (ethylene vinyl alcohol) coating that lines the inside of the plastic bottle so that the beer will not lose its flavor. If a plastic beer bottle can make it in a world of glass bottles, then why wouldn't a plastic keg shell work?

Commercial attributes

Producing the kegs out of PET simply makes sense. PET is a relatively inexpensive plastic, costing 8 cents/lb for a green-tinted polymer. This means that manufacturers can mass-produce them while maintaining a low cost of production. Keg shells are also reused numerous times, and that is why consumers must put a deposit on them when buying a keg from a local liquor store. Even when the kegs completes its useful life, these PET kegs can be melted down and blow-molded into new kegs. Recycling of plastic is cost-effective; in fact, it uses significantly less energy than that needed to use virgin plastic. Some other advantages of PET are that you can achieve high clarity and consequently identify the amount of beer remaining in the keg with ease. PET is also a very strong and durable plastic. It has a tensile strength of 32ꯠ psi. This represents the best tensile property of all plastic materials, and is more then six times the tensile strength of high-density polyethylene, which has a tensile strength of only 5ꯠ psi.

Rotational molding

These kegs will be mass-produced using a rotational molding process. The rotational molding consists of a closed mold that is mounted on a machine that rotates on the X,Y, and Z axes simultaneously. This leaves a uniform coat of molten plastic until the part is set by a cooling process. Rotational molding is used to make products like storage drums and kayaks and would be the best method for producing our specialized keg shells.

Another possible problem that must be addressed is the fact that UV rays can easily come in contact with beer and will reduce the alcohol content of the beer. In industry, top-of-the-line beer manufacturers use green and brown tints on their beer bottles to prevent the UV radiation from affecting their beverage. Examples of these tints are seen in the highly recognizable green Heineken bottles and the brown Samuel Adams beer bottles. This keg shell applies the same type of concept by having a green tint to all keg shells. UV light is no longer an issue and the alcohol content is preserved.

Barrier properties

In order to preserve the flavor of the beer and prevent the loss of carbonation, thus resulting in making the beer flat, we are going to add an EVOH lining because of its good oxygen-barrier properties. The barrier to oxygen and other gases of EVOH is .02 cc/.001in/100 in2/24 hr. The EVOH is applied to the inside of the keg shell through a spray process that creates a thin film barrier. The EVOH barrier in combination with PET materials, which is what our keg shell is made out of, has properties that are comparable to glass. I am sure everyone has encountered flat soda or even beer before in their drinking experiences and this lining will help prevent any further flat beverages. The consumer will always get the best final product possible and therefore the plastic keg will help to maintain the company's reputation.

Attached cup dispenser

Have you ever been at a party and simply couldn't locate the drinking cups? Here is the solution: a cup dispenser that is attached to the side of the keg. There will never be any doubt as to where the keg cups are again because they are attached to the keg right where they should be. This cup holder will be mounted to the side of the keg shell and will dispense conventional 12- or 16-oz plastic cups. All one has to do is grab a cup and fill it with the convenient nozzle located at the keg.

No-label-look identification

Have you ever been at a party and wondered what kind of beer is in the keg? The solution is as simple as printing large decorative labels on the sides of the keg shells. This way it will be evident to everyone what kind of beer they are drinking and there is no mystery to it. Not only does this help to inform the consumers, but it also serves as marketing for the purchases of kegs in the future by fellow consumers at the party. These labels will be p-s labels to give a "no-label look" to the keg shell. This allows for a high-impact design without the restrictions of screen printing. In this process of p-s labeling modern printing techniques, such as flexography, are used on a clear substrate and are applied to the keg shells with pressure to remove air bubbles. These labels are easier to remove than similar labels and this will allow for easy recycling of the keg shells to the different beer producers. They can simply remove the old label and apply their label to any keg and reuse it in the refilling process.

Wheeled for convenience and safety

Have you ever thrown out your back when transporting a keg? The fact is that kegs are heavy and we want to alleviate some of the effort it takes to move a keg into your household. These wheels are similar to wheels on a dolly used to move large furniture, appliances and other objects; you simply tilt back the keg and pull it along without lifting. These wheels will be incorporated as part of the bottom assembly. This assembly consists of a steel frame with rubber padding. The wheels can be easily mounted to the steel frame with simple nuts and bolts. These wheels will be small--one inch dia, solid aluminum wheels with a thin rubber layer on which the keg rolls.

Summary of benefits

The newly designed keg shell demonstrates the four functions of packaging and excels in every aspect. Our product contains the product in its PET shell. This strong plastic eliminates the chance of spillage. This package exemplifies protection of the product. Compared to aluminum, plastic is much more resilient to dents deforming the surface. Many aluminum keg shells, when they have been in circulation over time, become damaged and deformed. It also protects the contents from the ambient environment with an EVOH oxygen barrier and a tint to protect from UV degradation. Our product offers a higher level of convenience than the standard issue keg shell. Our redesigned keg shell has many added benefits than the standard issue. Its transparency allows one to monitor the amount of product contained. The added wheel feature allows easier mobility. A 100-lb keg can be very difficult and dangerous to maneuver. Our product now satisfies the communication function that was previously completely neglected. We have introduced a label to the design allowing for the consumer to identify the type of product.

Resources

Soroka, Walter. Fundamentals of Packaging Technology. Institute of Packaging Professionals, Naperville, IL, 2002

WEB SITES

PET/EVOH multilayer information.
Companies in this article