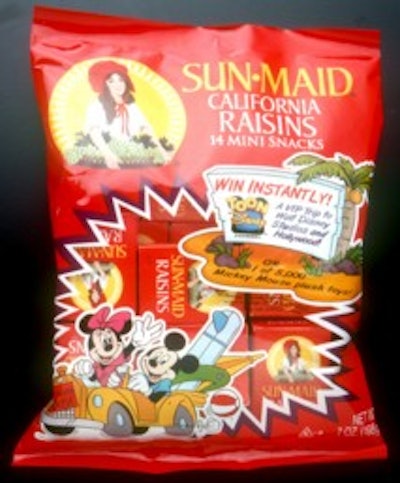 The awards included three Golden Mummy winners for flexible packaging and four Pyramid winners for labeling. Here are the three Golden Mummy winners:
Sun-Maid Toons and Treats Promo
Sun-Maid Growers of California and Seville Flexpack Corp. (Oak Creek, WI)
Kingsburg, CA-based Sun-Maid's decision to use a Hide-A-Winner® game piece for its Toons and Treats Halloween promotion proved a monstrous success. Developed by Seville Flexpack, the Hide-A-Winner patented process allowed Sun-Maid to incorporate the Toons and Treats game piece directly into the flexible packaging. This eliminated the need for a "drop-in" stage within the packaging process and ensured that 100% of its Sun-Maid's specially marked packages actually contained game pieces. The high-energy treated layer of Bicor LBW provides the excellent bond strength required for the promotional process.
Lance Poppers Bite-Sized Crackers
Lance, Inc., and Printpack, Inc. (Atlanta, GA)
Before Lance, Inc., Charlotte, NC, could proceed with the launch of its new Poppers brand of bite-sized crackers, it needed to develop a stand-up pouch that could deliver same-day freshness for its product. Lance found a flexible packaging solution when it combined ExxonMobil Chemical's Metallyte™ 50 TSPM with a polyester outer layer. Metallyte 50 TSPM provides robust moisture resistance capabilities, an important benefit because most salty snack products deteriorate quickly when exposed to moisture. In addition, the brilliant metallized appearance of the Metallyte film encourages a clean and fresh perception of the product.
Landshire Sandwiches
Landshire, Inc., with Columbus Cello-Poly (Columbus, OH)
Since the conception of the prepackaged sandwich market, the industry used clear packaging because it felt consumers would only buy a sandwich they could see. Armed with a consumer study that contradicted the clear package thinking, Landshire, Belleville, IL, decided to refresh its packaging and differentiate its product from the competition with 100% graphic coverage. Several films received close scrutiny with a focus on appearance, packaging performance and product protection. ExxonMobil Chemical's Bicor® AXT provided the gleam, sparkle and scuff resistance, and barrier properties Landshire wanted in its packaging. The dynamic combination of the film's performance and appearance and the eye-catching graphics produced a 30% average increase in sales for 15 Landshire sandwiches and extended the product's shelf life from 14 to 28 days.
Here are the four Pyramid Award winners for labeling:
Mistic 50% Juices
Snapple Beverage Group and Gamse Lithographing, Inc. (Baltimore, MD)
When the Snapple Beverage Group, White Plains, NY, sought to introduce its popular Mistic Line of juices in a 64-oz bottle, it faced the dilemma: delivering the benefits of a larger container without sacrificing the brand's premium look and feel. Using ExxonMobil Chemical's coated Label-Lyte® LS 447, Snapple created a full-wrap label solution with high visual impact, superior burst-strength, and moisture resistance.
Coors Light and Coors Original
Coors Brewing Company and Printera (formerly Alluglass Packaging, Inc., Snow Hill, MD)
Golden, CO-based Coors again leads the way to the next trend in beverage packaging that maximizes shelf appeal: replacing paper labels with film. The Denver-based brewer recently switched labels on its Coors Original and Coors Light bottles to ExxonMobil Chemical's new Label-Lyte® 85 LP-200M, a biaxially oriented polypropylene film that replaces metallized paper in water-based, cold-glue cut, and stack patch labeling applications.
Vick's Nyquil
Procter & Gamble, Quality Assured Label, Inc. (Minnetonka, MN) and Avery Dennison (Painesville, OH)
To create effective labels for its products, Procter & Gamble, Cincinnati, OH, must often consider increasing government labeling requirements and at the same time provide increased shelf impact, user friendliness, and better economics. The BackPack™ label from Quality Assured Label delivers results on all of these fronts and finds itself on the back of Procter & Gamble's Vick's Nyquil bottle. Quality Assured Label's BackPack product, an Extended Content Label (ECL), depends on the superior print performance and opacity of Label-Lyte® 65LL-344.
Suavitel Fabric Softener
Mission Hills, a division of Colgate Palmolive, Mexico with Package Service Co. ( Kansas City, MO)
As the only Mexican fabric softener with rectangular packaging, Suavitel enjoys excellent shelf presence. Mission Hills uses a roll fed label made from Label-Lyte® 350 LLG-202 and Label-Lyte® 408 LLG-102 to decorate its unique package. The roll-fed label costs less than the printed carton sleeve and Mission Hills saves labor costs by replacing the tedious hand-applied sleeve with an efficient, machine-applied material.
Companies in this article