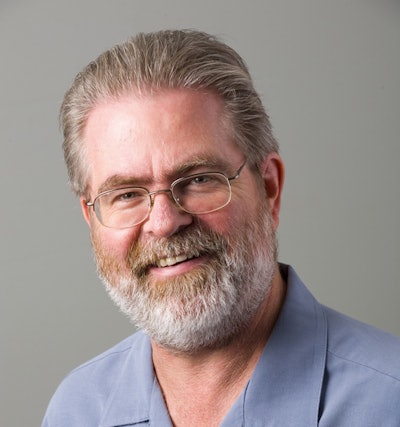 Let me thank all of you who participated in this year's survey. See the results on page 50. And thanks to Jim Butschli for bringing us this report each year.
Let me also direct your attention to a few new technologies covered in this issue. Of all the things we do here editorially, shedding light on the next big thing is our favorite. And I can't think of a next big thing any bigger or having any more potential than digital printing (page 62).
What makes all this even more fascinating is that now it's gone beyond digital printing on label stock or paper or film. In Europe, both KHS and Krones are introducing technology that makes it possible to digitally print on plastic bottles. Here in the U.S., Plastipak has also unveiled a digital printing technology called Direct Object Printing. I learned of it too late to include it in this issue's Special Report, but I plan to provide more details in our June issue. In the meantime, I'm including here a photo of the Procter & Gamble container whose shoulder violator is the result of Direct Object Printing. The implications for label converters and makers of label application systems could be enormous if this technology goes mainstream. A statement from Plastipak puts it this way: "This breakthrough technology eliminates the need for label substrates, reducing landfill scrap and label obsolescence and promising to be the next-generation variable-data printing solution for innovative bottle designs and consumer engagement." Plastipak is, of course, a little biased, so the notion of technology that "eliminates the need for label substrates" is probably a bit of a stretch. But still, what will be the impact of this new breakthrough if it eliminates even a percentage of today's need for labels?
But wait, there's more. What would you say if I told you that a combination of digital and laser technologies makes it possible to crease folding cartons and cut them from their sheets with no need at all for metal cutting dies or the skilled employees who make such dies? That's exactly what the Euclid system from Highcon is capable of doing (page 62). You have to see it to believe it.
And now, thanks to my brilliant Summit Media colleagues here in our Digital Media group, seeing such content is easier, more enriched, and more interactive than ever before. Just download our new magazine apps from the Apple App store at pwgo.to/781 or Google Play at pwgo.to/782 and you'll see what I mean. Thanks to these new apps, just tap the screen to bring up a video of the above-mentioned Highcon Euclid system in action. Or tap to interact with a 360-degree view of a stunning new package. Tap another page and you'll see beautiful schematic drawings of a fascinating new corrugated case-making technology that forms variably sized corrugated shippers from rollstock on demand (page 54).
While the iPad version of the app is designed to provide an immersive, high-fidelity reading experience, the smart phone version—available for iPhone and Android—is totally different, optimized instead for quick, on-the-go use. We've redefined the very notion of what a magazine should be on a smart phone. The result? No latency, one-handed operation, no waiting for pages to load.
Don't forget, readers of the existing Packaging World app will need to delete and re-download the new version to continue receiving the magazine on their device. But it will be time well spent.