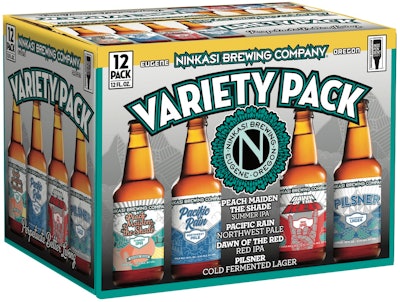 But seasonals can also be risky, forcing breweries to accurately estimate demand for an untested product several times a year. An inaccurate forecast can be costly, either in terms of the missed opportunity to meet demand for an unexpectedly popular seasonal or in the tens of thousands of dollars wasted in obsolete packaging for a flavor that fails to catch on with consumers.
Digital print solutions from Hummingbird give craft brewers like Eugene, Ore.-based Ninkasi Brewing Company the needed flexibility to make the most of a successful seasonal strategy and reduce the risk.
"Beer brand loyalty is not what it used to be, so being nimble is important," says Ninkasi Purchasing Manager Ryan Halleman. "Working with Hummingbird™ has made it possible for us to do smaller runs and launch brands in a way we couldn't do before. It's huge."
The Ninkasi cases are run on Hummingbird's PageWide T1100 from HP. Hummingbird's ability to aggregate demand and print multiple package designs in a single run gives Ninkasi better control over its seasonal packaging inventory. When launching a new beer, the team places an initial order that is between 60 and 70% of estimated demand. When that inventory is nearly depleted, Ninkasi places a second, short-run order that is printed side-by-side with one of its year-round packaging designs. Combining the orders keeps costs and obsolescence low, and Hummingbird's quick turnaround ensures that Ninkasi always has packaging at the ready.
Other content you may be interested in:
Shrink Sleeve Solution for Craft Brewery's Cans Lets Artist-Inspired Labels Shine
As the Growth of Craft Beer Wanes, Diversification May be a Necessity
The icing on the proverbial cake—or maybe the foam on the top of the beer—is that Ninkasi saves $12,000 or more a year by working with Hummingbird. Thanks to the power of digital preprint, a change in package design is as simple as modifying a computer file—no expensive print plates required. That kind of savings makes it easier to successfully execute a seasonal strategy and also takes some of the risk out of major packaging changes—key advantages everyone can raise a glass to.
---
---
Companies in this article