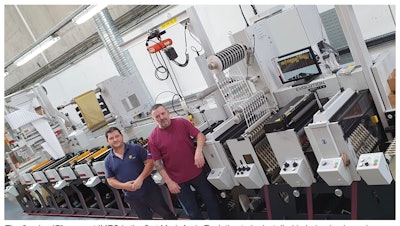 Mark Andy is the developer of the Evolution press. IMEC, which began with four people in a small unit in Bray, County Wicklow, has grown into a modern 6,000 sq-ft facility in Rathcoole, near Dublin and employs a staff of 15. CEO Simon Burke explained the background: "We started by building a customer base in the pharmaceutical and medical sectors that were booming at the time and moved into food labels when the production equipment was enhanced to allow us to serve that sector more efficiently. Now we have an extensive portfolio of customers in pharma, medical, food manufacturing and service, and general retail."
A visit to Labelexpo in Brussels last September, which happened to coincide with the launch of the new Evolution series of presses, was enough to whet the appetite of IMEC. Knowing of Mark Andy's reputation in the label printing sector and appreciating the quality of workmanship that goes into the design and functionality of its presses, a close evaluation of what the new Evolution series had to offer was a must. What they discovered was a press that featured an all-servo platform derived from the P7E Performance Series line, and the ability to spec the press to fit current requirements, safe in the knowledge that it can be upgraded as needs change.
The new Evolution installed in the company's Rathcoole factory is an 8-colour flexo line with a 17" (431mm) web width. The servo control and automatic register allow for high-accuracy second pass printing, if needed, with no loss of quality, which opens a whole new area of business opportunity.
PACK EXPO Connects – November 9-13. Now more than ever, packaging and processing professionals need solutions for a rapidly changing world, and the power of the PACK EXPO brand delivers the decision makers you need to reach. Attendee registration is open now.
Williams explained: "It's wider, quicker to make ready and change over, and runs faster across an extended range of substrates in perfect register – what's not to like? The unwind and rewind capability allows us to use larger rolls with less downtime and waste during changeovers and we decided to add chilled impression cylinders and a chiller to allow us to convert unsupported films. This opens up the bottle wrap and sleeve markets for us, which are growing fast right now." The Evolution also has lamination and cold foil facilities as well as delam/relam for reverse side printing, and a running speed of 750ft/min (230m/min).
Since full commissioning in the Spring, the Evolution has more than proved its worth to IMEC, bringing in new work from the beverage and other sectors to add to the growth in demand from the company's traditional pharma and food industries, brought about by the coronavirus pandemic. With such pressure on production, even with the new press, IMEC is already looking to add a second Evolution flexo line and replace its existing digital capacity with the latest Mark Andy Digital Pro 3 toner- based technology for high-quality short run work. With a healthy €2.5m annual sales figure that will see a sharp rise in the first twelve months of the Evolution being in full production, it's easy to see why IMEC is confident of its future success.
---
See it Live at PACK EXPO Connects Nov. 9-13: Blower and Pump Innovations to Save Money, Energy, and Downtime, by Republic Manufacturing. Preview the Showroom Here.
---