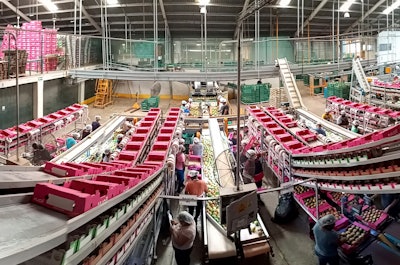 In a company like the Cultivares Group's Fruta-Exporta, where fresh mangoes are its only products, one could think that packaging, marking and traceability operations are simple and have few setbacks. But the complex demands of international traceability standards –which precede the harvesting of fruits– are evident when looking at the set of variables involved throughout the chain: five varieties produced, different sizes and weights, about 20 types of different cardboard boxes in which the mangoes are packed, and the varied information requirements printed on the packages regarding batches, dates, barcodes and other data necessary for their shipping and marketing.
Fruta-Exporta is a second-generation family business that currently holds a 15% share of total exports of fresh Mexican mangoes to the United States, with annual sales of more than 6.5 million boxes, as well as customers in the European, Japanese, Korean, Australian and New Zealand markets.
Traditionally, marking and traceability operations for their products' boxes were carried out with thermal printing labels, requiring up to 6 people per packaging line. "We did everything manually, we did not have barcodes, and the information on lots, compliance stamps with United States Department of Agriculture (USDA) requirements and other data were provided even with ink stamps," recalls José Luis Aramburo, director of Operations and of the Fruta-Exporta packing plant, located in the Municipality of Rosario, Sinaloa, 80 kilometers south of the Port of Mazatlán.
Every year, the agricultural products industry handles around 6 billion boxes of fruits and vegetables in the United States alone. These volumes have raised marketers' awareness of the benefits of a systematic, industry-wide approach that improves supply chain speed, efficiency, visibility, and control. In 2008, health problems on the Mexico - United States border gave rise to what was known as the "tomato crisis." Leading buyers such as Walmart, Costco, Dole Food Company, Publix Super Markets, Sun Pacific, Consumers Produce, Inc., and Dawson Orchards, among others, established strict control measures for agricultural products entering the country - which in turn led producers to implement traceability technologies and ensure hygiene and safety conditions.
Walmart, in particular, had announced a project in 2016 to track the origin of mangoes sold in its stores. On its website, the chain points out the background and results of this initiative and quotes the then Vice President of Food Safety, Frank Yiannas: "For mangos, we started by establishing a benchmark. We brought a package of chopped mango to a Walmart store and asked employees to identify the farm it came from as quickly as possible. Employees started calling and writing to suppliers and finally got a response, almost seven days later. This is not bad by industry standards, but at Walmart we wanted something much better." After several tests and work with partner companies, the chain developed a traceability system that dramatically streamlined the identification process: "The time required to determine the origin of mangoes went from 7 days… to 2.2 seconds," reads the summary of this project.
---
See it Live at PACK EXPO Connects Nov. 9-13: Semi-Automated Food Packaging Systems that Will Power-Up Your Production! by Point Five Packaging, LLC. Preview the Showroom Here.
---
Efficient Management Solutions
In 2017, the approach between Fruta-Exporta and Impresoras Tintas y Fluidos, S.A. de C.V., Mexican distributor of inkjet coding and marking equipment manufacturer Squid Ink industrial inkjet printers and coding and marking solutions, allowed the company to address this need to improve traceability of its products. Fruta-Exporta's production and marketing of fresh mangoes for export were already part of a diversified operation, which over time included different types of packaging. "For cardboard boxes where we pack our mangoes, we have more than 20 different designs (4, 9, 14 and 21 kilos), while most other companies only use 1 or 2 types of boxes," says José Luis Aramburo, referring to the complexity of their packaging and marking and coding operations.
This diversity required versatile and efficient solutions, provided ideally by the integration of Squid Ink's inkjet printing technologies with special software developed by Impresoras Tintas y Fluidos, S.A. de C.V.
By the end of June 2018, Fruta-Exporta had acquired 14 CoPilot 500 pieces of equipment for marking and coding, whose technical specifications comply with the demanding traceability standards. Thanks to the height of its heads (2.8 inches), high resolution of printed characters, clear texts, and use of high contrast inks, the equipment guarantees accurate reading of barcodes on the mango boxes. As of 2020 the number of CoPilot 500 pieces of equipment acquired by Fruta-Exporta has risen to 25, with the purchase of 11 more units in two years.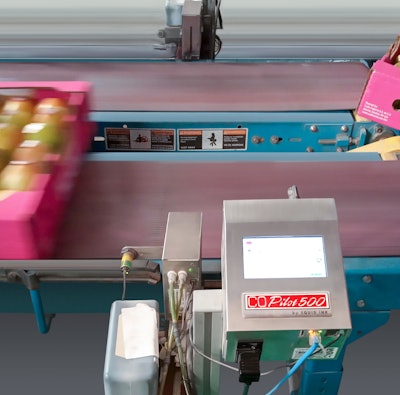 Along with installing the equipment in various Cultivares Group plants in the states of Chiapas, Oaxaca, Michoacán, and Sinaloa, Squid Ink - together with Impresoras, Tintas y Fluidos - began developing special software that allows managing variable information for each packed box, eliminating the use of thermal printing labels. "We started by developing the support, based on information on communication protocols and working closely with systems and mechatronics engineers, to begin integrating data into Squid Ink equipment that would allow dynamic changes to be made to packaging lines," recalls Vázquez.
With the Squid Ink´s CoPilot 500 equipment, the items required for traceability are now included on the boxes of mangoes ready for export: barcodes that store valuable product information, regulated by the authority in this field (GS1). "The code contains a large amount of information, so when it is entered into a computer the entire associated chain can be printed and you can access, anywhere in the world, the product's information and complete trajectory," says Vázquez.
"This software allows specific information to be added or deleted during printing, according to the specific needs of each client, which helps meet traceability requirements," says José Luis Aramburo. "To facilitate the marking and coding process, boxes are distributed among different lines in the packing plants, to ensure only three or four different types come out of each one," explained the director of the plant in Sinaloa.
The advantages the installation of the new equipment has represented for Fruta-Exporta are notable beyond this operational aspect. Due to the magnitude of its operation and the large number of plants and lines, savings in labor costs represented by Squid Ink's marking and coding technologies translate into high economic efficiency.
Before acquisition of the CoPilot 500 equipment, marking and coding operations at Fruta-Exporta used manual application of thermal printing labels that required 6 operators on each line. Now, after the Squid Ink equipment was installed, only one operator is required per production line. "We did cost, personnel and material waste analysis, and calculated we will recoup the investment in equipment in the course of just two or three seasons," José Luis Aramburo told Mundo PMMI.
---
See it Live at PACK EXPO Connects Nov. 9-13: Avoiding The 5 Deadly Mistakes Of Turnkey Packaging Line Integration, by Zarpac Inc. Preview the Showroom Here.
---
Technology that Leaves a Mark
Current printing solutions in the different Grupo Cultivares plants offer a wide range of properties that speed up the marking and coding processes. The PZ Pilot Pro model, one of the first purchased by the company, has been specifically designed for use on corrugated boxes and porous surfaces. It has the ability to print characters and codes up to 2.1 inches, from a controller that handles up to four print heads and speeds of up to 60 meters per minute.
The newer CoPilot 500 models offer a slightly higher print range (2.8 inches with one print head) and works with oil-based inks for marking or coding on porous surfaces in high-pressure and demanding production environments, such as agro-industry, with speeds of up to 30 marked boxes per minute. "The use of oil-based inks for printing on cardboard boxes guarantees the heads do not dry out, which ensures that downtime for Squid Ink systems is almost non-existent," states Ángel Cartagena, Squid Ink Sales Manager for Latin America.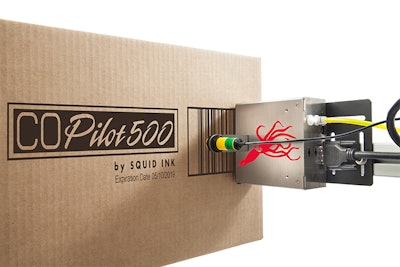 The process of adopting the Squid Ink technology was gradual, evaluating equipment performance in different plants along the way. "Initially we acquired two printing systems, and when we realized that they worked very well we asked for two more. We have kept growing, until the purchase of 14 more units for the El Rosario plant, where we changed the entire marking and coding system to inkjet," explains José Luis Aramburo.
The relationship between Fruta-Exporta and Squid Ink has consolidated since their first meeting during an association of Mexican mango producers show. "We saw their equipment at the stand, and it is in widespread use in the sector; between 30 and 40 percent of mango packers in Mexico work with them," says Aramburo. Today, the two companies' close collaboration ensures that operation of the installed equipment is reliable and its service timely. "We have an on-site engineer at the Fruta-Exporta main plant in Sinaloa. We are not taking risks; service is immediate, guaranteed from an office in the City of Celaya, Guanajuato, and by four additional engineers who live in the places packaging operations are carried out during harvest seasons," says Enrique Vázquez, referring to customer care in the service and maintenance areas.
This timely response to precise needs is also reflected in the specific properties of the equipment, adapted to the requirements of Fruta-Exporta. "The printing systems are very friendly and intuitive," says engineer Vázquez. "When we developed them, we understood that the operators, members of communities close to the operations, would often have low education levels, so we included special functions that facilitate their handling."
Enrique Vázquez points out that his company is making progress in adapting software for data acquisition and collection to optimize control and packaging processes. They are also currently working on capturing production data information, such as the number of boxes by batch, sizes, and cold storage entry, among other variables, to develop new modules for the program that allow better control of inventories and product movement. "From the point of view of Squid Ink machinery, several advantages are offered. One is a communication protocol from an external medium that allows dynamic and variable printing, in the case of Fruta-Exporta," says Ángel Cartagena, Squid Ink Latin America Sales Manager. This integration with external media such as databases, for example, allows the printer to not only receive data but also communicate information about the process and products.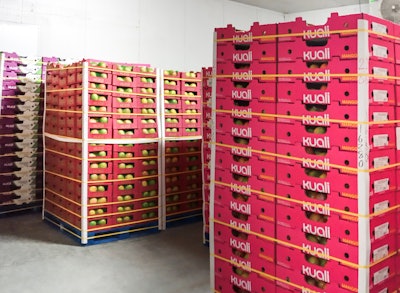 Growth Forecasts
For Squid Ink and its distributor in Mexico, Impresoras Tintas y Fluidos, S.A. de C.V., working with the Cultivares Group has been an enriching and mutual learning experience. "The Cultivares Group is very representative of the mango producers sector in Mexico, and an example of efficiency. Every time they need something, they call us and we develop solutions jointly," says Enrique Vázquez. An example of this joint work was a modification requested by Walmart to the packaging coding, six months after the traceability standard was implemented. "Fruta-Exporta communicated the required guidelines to us and we applied them quickly. We have achieved a win-win relationship, where they bring us up to date with trends and changes in the markets and we develop the answers, always with the future in mind," states Vázquez.
The two companies are currently working on developing a box counting function to estimate payment for packers, on using the production data acquired through the software, and on process optimization in all lines. "We have expansion and upgrade projects in other plants and, in general, we want to be ready to serve new customers in Europe, Korea and Japan, and all those we contact each year to expand our natural market, which is the United States," concludes José Luis Aramburo in his interview with Mundo PMMI.
Companies in this article