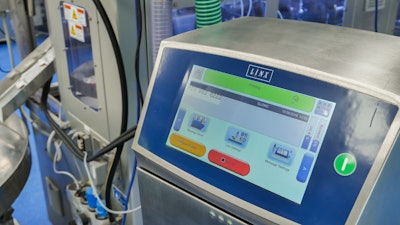 The printer is the Model 8910 from Linx Printing Technologies, and the company is also benefiting from Linx's newly launched Printernet service, which enables it to remotely monitor and control the Linx 8910.
At Glowcroft's Suffolk factory, the Linx 8910 is moved around depending on where it is needed. It codes onto a range of pet food and horticultural products that come in pouches, cartons, tubes, buckets, and more. Line speeds vary from five to 50 packs/min, with daily output around 23,000 packs/day at the latter speed.
The Linx 8910 is ideal for Glowcroft because of the maneuvrability provided by its robust wheeled stand, which makes transportation between production lines easy, and its IP55-rated stainless steel enclosure, which ensures it withstands any accidental bumps.
The machine meets Glowcroft's need for printing onto various materials and positions on the pack through its outstanding versatility, combined with Linx Black fast-drying ink 1240, which is suitable for a wide range of coding applications. The printer can easily adapt to printing on the back of a paperboard carton one moment, and the top of a plastic tube lid the next. Its capability to print up to five lines of text, numbers, barcodes, and logos further means an extensive list of options for Glowcroft.
Further benefits that enable Glowcroft to maximise uptime include the Linx 8910's simple self-maintenance, with up to 18 months between services; its quick-change fluid cartridges, which cause minimal disruption to the line; and its simple smartphone-inspired screen, which makes operation faster than ever.
Another key element is the newly launched Linx Printernet. This service enables the company's operators to monitor and remotely control the Linx 8910 via their smartphones or laptops, which also receive reminders about fluid changes or maintenance. This allows for optimal daily planning, faster reaction times, and maximized coding uptime – all key benefits for Glowcroft.
"The Linx 8910 is the perfect coder for us," comments Duane Porter, Operations Manager at Glowcroft. "Its ability to float around the factory, moving to wherever it is needed, is absolutely priceless – as is its capacity to work with so many different types of packaging. It's a lot easier to use than the other coders we've had,which frees us up to concentrate on other things, safe in the knowledge it's doing its job. The new Printernet service is great too. I can get useful feedback on the printer just by checking my emails, and the simple to use dashboard shows me the real time status of the printer wherever I am in the factory."
Established in 1990, Glowcroft Contract Packing packs over nine million packs annually for more than 100 brands in pet food, horticulture, and more.
Companies in this article