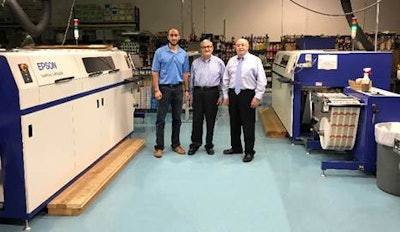 Digital printing continues to grab market share from offset presses, according to a recent Smithers Pira report. The report noted that while digital printing represents only 2.9% of volume, it accounts for 16.2% of global print market value and will accelerate to 3.9% of volume by 2022.
Evidence of digital printing growth comes from SixB Labels, a source for labels, decals and bar codes in the Southwest, which purchased and installed its secondEpson SurePress®L-4033AWdigital label press to meet increasing customer demands in the graphic, manufacturing, food, service, beauty, and health industries. SixB Labels will use the digital label press for its range of full-color label capabilities to produce semi-gloss and BOPP labels, as well as to expand its short-run label printing to customers.
"Epson's SurePress L-4033AW is a valuable tool for our business," says Fari Bakhshian, President, SixB Labels. "We decided to purchase a second SurePress because of its expansive label printing capabilities and how it allows us to produce smaller runs with less waste, helping us to decrease production time and reduce costs."
SixB Labels received a Premier Print Award from Printing Industries of America for labels created on the SurePress L-4033AW for Texas-based customer Central Market. The "Best of Category Digital Printing: Tags and Labels" winner features the photographic-oriented Central Market Iced Tea Jug Labels for placement on metal tins. "The amount of detail on the labels printed by the SurePress was tremendous," says Bakhshian. "We printed a smaller run for Central Market and decided to submit their Hibiscus Mint tea labels for the award, which we were honored to receive. The Hibiscus Mint was also only the beginning, as the project lent itself to multiple label variations created on the SurePress – House Black, Mango and Texas Gold Iced Teas – with labels including clear and colorful imagery of ingredients."
The Epson SurePress L-4033AW is designed as an easy-to-operate, seven-color inkjet digital label press with white ink for high-quality, short-run label printing, even on clear and metallic substrates. Driving the printer is the included Wasatch RIP and Print Management Software.
Click the headlines for more on digital printing news and applications in packaging:
• Cannabis packaging—a snapshot
• PACK EXPO Las Vegas 2017 innovations report
• Coffee vault is next step in La Colombe's 'obsessive innovation'
• Digital print makes a splash at Craft Brewers Conference 2017
Companies in this article