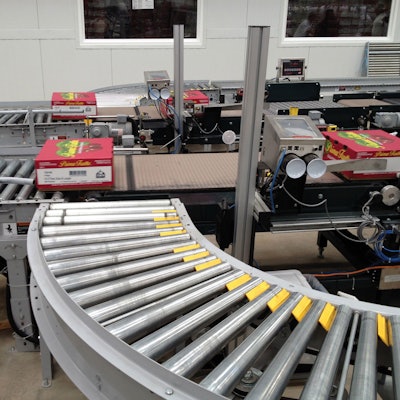 Supplier of premium apples, cherries, and walnuts, Prima Frutta Packing Inc. and Prima Noce Packing, Inc., Linden, CA, operates multiple feeding lanes that funnel product to its various packaging stations. The packer serves both large and small retailers and wholesalers domestically and internationally. Products are packaged in bulk master containers and in consumer-size bags and clamshells, using a range of equipment from multiple packaging machinery and materials suppliers.
The intensely automated facility inspects and grades each piece of fruit or nuts both by hand and by automated sortation scan. For example, for each cherry more than 30 photos are taken to verify proper shape, color, size, and quality.
Case coding QC
A new shipping case printing requirement called for placement of a GTIN (Global Trade Item Number) barcode on every case for traceability. The printing system Prima Frutta had in place was not capable of doing this. So to accommodate these printing requirements in its case-packing operations, Prima Frutta chose to employ multiple PZ Pilot Pro™ printers supplied by Squid Ink/Engage Technologies Corp.
Squid Ink's versatile PZ Pilot Pro printing system is designed to deliver high-resolution print up to 2.1" in height to both porous and non-porous surfaces using oil-based or solvent-based inks. Built-in printer software automatically calculates ink usage for each message, enabling the user to modify messages and control ink costs. The low-maintenance, user-friendly system can run up to four print heads from one controller.
Before the Squid Ink's Pilot Pro prints the GTIN bar code and other case identifying information, the packed shipping cases pass over an in-line scale supplied by Sims Manufacturing. If the box weight is not correct, the Pilot Pro printer will not print the box alphanumeric information, but instead print a code that reports the weight issue. A Microscan QX-870 scanner tells the printer the information to print on the case, including product ID, weight, and packaging sequence. These messages can change on the fly, and each message is unique and can be printed in a foreign language, depending upon product destination. This is all controlled by customized software developed by Prima Frutta.
The shipper cases are made of non-porous materials, and the printing inks Prima Frutta uses are solvent-based. The corrugated shipping case materials are manufactured by International Paper, and are provided to Prima Frutta by local supplier M. Calosso and Son, Stockton, CA. The cases are automatically erected using equipment from both International Paper and M. Calosso.
Prima Frutta currently is operating nine Pilot Pro printers. Production Manager Tom Augello says, "The Squid Ink personnel were very involved in the installation, training, and start-up for these printers. We have a local salesman, Rich Bronge, who has been continuously helpful. He was closely involved in the set-up of the printers, and comes on-site often to check on things and help resolve any issues. We also are in regular contact via phone and email with Squid Ink staff. For example, we had some special software requests to accommodate our computer system interface. Their team assisted in managing those adjustments."
Augello adds, "We are printing more information with the one PZ Pilot Pro in high definition than we were with the four print heads on the old system. We also have been able to cut back on labor by not having to place special market stickers on cases. Instead, we can now print everything we need to right on the case with one PZ Pilot Pro print head."
Companies in this article