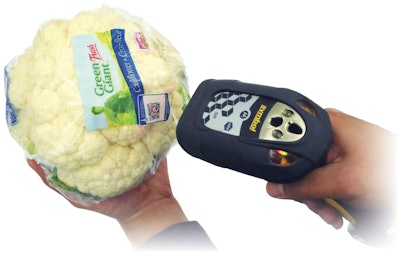 Growers Express LLC, Salinas, CA, cultivates and packages a family of fresh produce brands, including Green Giant Fresh, Capurro Farms, Western Express, and Topless. For food safety, traceability, and marketing reasons, the grower wanted to implement Quick Response (QR) matrix and barcoding for unit-level traceability of these products to more concisely target where the product was packaged, the day it was packaged, etc. Growers Express turned to its polyethylene film supplier and printer, Emerald Packaging, for assistance.
Responding to this customer request, Emerald Packaging investigated several systems and concluded that the Bitjet digital ink jet printer from Domino was the best and most cost-effective option. "At Emerald Packaging we run 4 million quality bags a day," says Converting Department Manager Patrick McMahon. "When it comes to traceability, we put our trust in Domino Bitjet."
The Domino Bitjet system can print the QR matrix codes, conventional barcodes, and human readable alphanumeric data directly onto the poly material for every package when it is still in roll form during the converting process. The rolls of film then are cut down in bag form, boxed, and shipped to the Growers Express facility in Salinas.
Emerald opted for the Bitjet system because it offered good, consistent print delivery to the substrate, fast-drying ink, print speeds up to 1800 feet per minute, compact machinery floor space footprint, simplicity of use, and operational durability (Emerald often runs seasonal products 24 hours per day).
How it works
The QR matrix/barcodes are readable via QR scanner or mobile smart phone. The QR codes provide both food safety and traceability data. For example, when a consumer scans the QR code on a poly-bagged head of Green Giant Fresh cauliflower with a smart phone, he or she is taken to the Green Giant website. There information is available about the harvester's identification and location, when and in what field the produce was harvested, as well as about proper storage of the produce and suggested recipes.
The unique code printed on each cauliflower bag is repeated on the shipping box (for example, inside this box are products 1 through 3000). So in the event of a foodborne illness outbreak, each head of cauliflower can be traced back to the specific field, enabling the affected products to be removed quickly from the food chain. This system is designed to help Growers Express build brand loyalty and brand confidence.
Implementation challenge
The main challenge was developing a system that had the ability to print directly on the flexible film and that could ensure that each individual bag had a unique number or identifier printed on it. Pre-printing onto an adhesive label and then applying that label onto each bag would have added to the process in terms of steps and cost.
Emerald Packaging researched several different printer options before choosing to install the Domino Bitjet on its pre-formed bag lines in mid 2012. The Bitjet offered the features Emerald Packaging was looking for. Specifically, it has a small footprint, allowing flexibility to mount onto bag converting machinery in a tight amount of plant floor space; sufficient print speeds to keep up with production needs; ease of set-up and use; and durability to run 24 hours per day, 7 days per week. And all these features promote high cost efficiencies.
Domino brought their Bitjet equipment to Emerald Packaging's facility and proved on the plant floor that it could do the job by running trials. The code legibility was excellent and consistent and there were no technical issues in terms of scanning or human readability.
Emerald Packaging has several other potential customers looking into this printing technology for fresh produce packaging. But a lot of implementation is up to the customers and their operating infrastructures. Growers need to invest in multiple scanners in the field and train their people to perform proper scans on the individually packed products. In this regard, Emerald Packaging has helped facilitate broader usage of the technology by using a software solution from FoodLink which issues and manages specific numbers and number sequences for the packaged products.
"Domino has proven to be a very solid partner for Emerald Packaging," says Todd Somers, Director of Sales & Marketing at Emerald Packaging. "They have really gone above and beyond for helping us to bring a technology to the marketplace that didn't exist."
Companies in this article