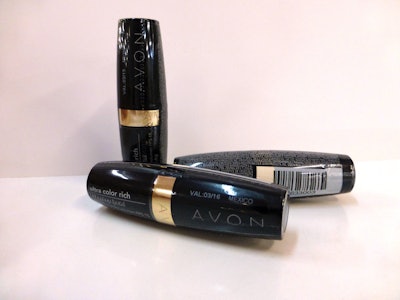 Avon Cosmetics, S de R.L. de C.V., Celaya, Mexico, manufactures lipsticks, eyeliner pencils, mascara tubes, and other small, cylindrical items. The plant wanted a more efficient way to shrink-sleeve label these unstable cylinders.

After researching several shrink-sleeve options, Avon/Celaya decided to install a Model EZ-100H shrink-sleeve labeler from Axon, a Pro Mach Company. This labeler is specifically designed to accurately apply tamper-evident shrink-sleeve labels to small cylindrical products that are not easily conveyed standing on end vertically and so are oriented horizontally on a packaging line. The system includes a hot air tunnel and an integrated roller conveyor that rotates the cylinders during the controlled heat shrink process to ensure optimal shrink results. No pucks are used to hold the tubes in place. The conveyor has rollers, and the tubes easily lie between the rollers. The cylindrical containers are placed at the beginning of the conveyor and stay steady during sleeve label application.

The automated EZ-100H, installed in February 2012 and started up in March 2012, is rated between 60-70 units/min for cylinders measuring from 9-28 mm. Machine settings can be readjusted with the push of a button for quick changeovers among different products. A video demonstrating the EZ-100H sleeve labeling machine in operation can be viewed at www.bit.ly/pwe00484.

These shrink-sleeve applicators come with the Axon performance guarantee and are backed by the company's ProCustomer pledge to provide the highest level of customer service and after-market support. Axon personnel were on site at the Avon/Celaya facility for two weeks to ensure a high level of training and smooth start-up. Avon Latin America project engineer Alonso Esquivias says, "The quality of the label in terms of appearance and consistent application is superior to what we were able to do with our previous process. Furthermore, compared to other equipment, the Axon applicator delivers higher efficiency and labeling speeds at lower overall cost. Previously, we had higher manual labor usage—four workers were cutting the cross die-cut labels by hand."
Companies in this article