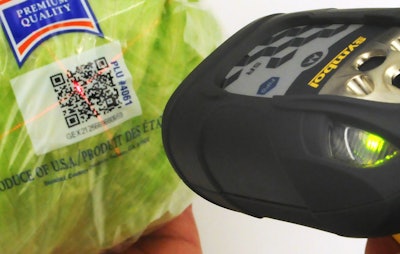 Fresh produce packaging supplier Emerald Packaging is providing consumers with more information on the origins of their food after installing new digital ink-jet printing equipment from Domino USA that delivers unique human-readable and QR codes in a single pass.
The Union City, CA-based packaging manufacturer, which supplies printed bags to companies such as Growers Express, a packer for food manufacturing brand Jolly Green Giant, invested in Domino's Bitjet+ in-line digital printing system along with its Editor GT ink-jet and production line controller in order to print unique QR codes onto each of its bags.
The unique codes, which are supplied by database and software management provider Truetrac, contain a wide range of information on the product, including farm locations, grower profiles, food safety notices, and nutritional information. These codes are managed by the Editor GT system and printed onto the bags by the Bitjet+.
By scanning the code with a smartphone, consumers can find out everything about the product, including the field in which it was harvested.
Domino's Bitjet+ integrates seamlessly into existing packaging lines and is suitable for adding high-resolution variable data, including QR codes, addresses, numbers, bar codes, and graphics to a range of substrates.
The printer was incorporated into Emerald Packaging's bag processing line, which produces 150 bags/min, without any interruption to the manufacturing process.
Says Emerald Packaging sales and marketing director Todd Somers, "The Bitjet+ is the first system within the fresh produce packaging sector that prints both a unique QR code and human readable code directly onto the bag. This is important as it enables the end consumer to track back when and where their produce was harvested and packed. This even tracks the item down to the specific field where the produce was grown."
Companies in this article