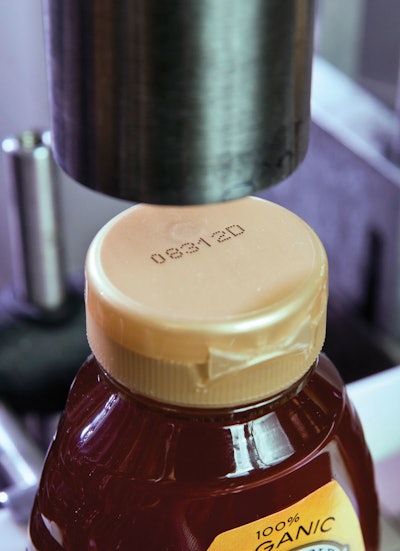 Dutch Gold Honey, Lancaster, PA, produces 11 honey varietals, an organic honey, and three varieties of maple syrup. The company manufactures its own brand and also contract packs for other brands. Billed as the largest family-owned honey company in the United States, Dutch Gold satisfies its customers with a broad spectrum of product volumes—from 8-oz plastic squeeze containers to tanker trucks of honey.

The company sources its plastic containers and caps from multiple suppliers to accommodate the diverse product range. Corrugated shipping cases are supplied by York Container.

All of the bottles and cases must be coded for identification and tracking and special seasonal promotions, and each customer has its own coding requirements. Due to its wide range of packaging types and coding criteria, Dutch Gold was encountering some product ID and shelf-life coding coordination and monitoring problems between primary and secondary packs. And packaging line workers had the time-intensive task of manually keying in the diverse coding information. Consequently, the company was having to scrap significant numbers of miscoded cases or reprint new labels to apply over the incorrect case labels.

Jim Gerlach, production scheduler at Dutch Gold Honey, notes, "We needed a better way to coordinate our bottle printers with our case printers. After working with Videojet for over 30 years, we've developed a strong relationship. So we looked to them to help us address this issue."

Gerlach and Dutch Gold's production maintenance manager Jose Torres worked closely with Videojet's sales engineer Gary Miller and sales application engineer Randy Kaiser to evaluate the needs of the coding system and determine the best solution for networking the production line coding operations. This team of four first needed to consider the configurations of the primary and secondary printers and the customers' unique coding requirements on the multiple production lines.

Together, the team came up with a complete coding solution that included upgrading both the production lines and the code printers and networking them through Videojet's CLARiSUITE code assurance software. The software is designed to better coordinate Dutch Gold's three Videojet 1510 small character continuous ink-jet printers for the multiple plastic bottle varieties and six Videojet 2350 large-character ink-jet printers for the multiple shipping case sizes and pack patterns. It pulls critical customer data from Dutch Gold's database to coordinate production and coding operations. In addition, Dutch Gold uses CLARiSUITE's Message Management feature to secure and streamline data management, enabling Gerlach and Torres to centrally create, store, and edit all messages as needed.

Prep project
After the hardware and software decisions were made, Videojet worked with Dutch Gold Honey on some upfront prep work to ease the implementation of the new coding system. Gerlach notes, "Prior to going live, we wanted to align everything we needed before the actual installation took place. The Videojet project people defined the exact requirements of our application prior to arriving on site for the installation phase so that we could be in the best possible position for the new coding solution rollout."

Over the course of a week, Videojet and Dutch Gold personnel preloaded the CLARiSUITE database with customer information such as sell by/use by dates, lot numbers, bar code data, case descriptions, and graphics. More than 300 different codes were put into 15 templates, with each message being started by an operator scanning a unique bar code. This system saves Dutch Gold approximately five minutes per set-up, adding up to about 30 minutes per day, or 2.5 hours per week, while slashing error rates to almost zero.

While CLARiSUITE was being preloaded with all the necessary coding information, Dutch Gold and Videojet installed the three new Model 1510 small-character continuous ink-jet printers within a few days. The honey company already had the six large-character Model 2350 case coders in place, running independently on all three production lines. When the loaded CLARiSUITE was ready for deployment, it was able to link and network the integrated printer/coder units.

Videojet's on-site team tested all the equipment, handled any needed additional data input, and made sure everything was running properly. The Videojet people also provided on-site training to Dutch Gold Honey operators.

Well-coordinated coding
Today, Dutch Gold Honey is enjoying code assurance with its primary and secondary packaging printers. The plastic bottles and corrugated shipping cases carry crisp, clear, consistently accurate codes. And when product changes occur, the system automatically ensures that the correct, corresponding codes will go on the bottles and cases.

Gerlach reports, "Selecting Videojet's complete coding solution not only helped us effectively manage the coding mismatches, but, at the same time, we benefited by the upgrade to compact, touch screen printers that are very easy to use and are practically maintenance-free."

Downtime decreases have been documented. Operators went from spending 15 minutes every day to clean the older continuous ink-jet printers to spending five minutes once a month to clean the new 1510s. Torres notes, "There's basically no downtime when it comes to the 1510 continuous ink-jet printers. We turn them on in the morning and turn them off in the evening. They pretty much take care of themselves, and that allows our team to focus on other important tasks."

Dutch Gold Honey employees not only spend less time maintaining the printers, but they also are relieved of the stress of having to manually enter product coding data. With the upgraded Videojet printers networked with CLARiSUITE, employees only need to make three quick code scans, taking approximately 30 seconds, and the production lines are ready to go. Torres states, "The 1510s and 2350s are just all-around good printers. They're easy to use, reliable, and we've been very happy with the change."
Companies in this article