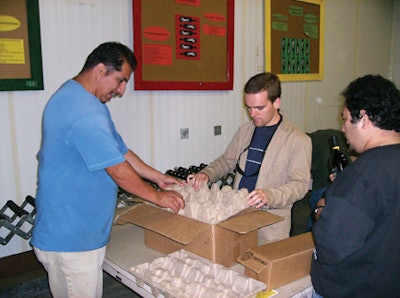 The mission of the
California Autism Foundation
(CAF) is to provide people with autism and other developmental disabilities the best possible opportunities for lifetime support, training and assistance in helping them reach their highest potential for independence, productivity, and fulfillment. And the organization proudly accomplishes this mission, for the most part, by supporting itself without outside assistance through its Custom Assembly and Packaging operation in Richmond, CA.
California Autism Foundation serves multiple functions. The organization offers A Better Chance (ABC) Residential Services through three adult group homes and ABC Supported Living Services to support mainstream living for 22 adults capable of greater independence. CAF also sponsors the creation of ABC Apartments, serving 14 adults in affordable community living in Contra Costa County.
In addition, the community-based education programs at A Better Chance School and ABC Camp provide 45 children with education and activities year round. The ABC Work Activity Program is funded through the Regional Center of the East Bay and the California Department of Rehabilitation. The program is designed to provide adults with vocational skills and paid work experience that will enable them to work productively and independently. ABC Work Activity Program participants are employed by CAF's Custom Assembly and Packaging service, which provides packaging, labeling, fulfillment, and assembly services to local businesses.
ABC Day Program provides a community based vocational training, adult education, and activity enrichment curriculum to more than 90 adults each day. And, ABC Industries offers supported employment and job coaching to more than 70 adults with autism or other developmental disabilities. The ABC Transportation Services transports more than 150 CAF clients between their home and the day program.
During the past 26 years, CAF has provided individualized care for more than 1,000 children and adults with autism in Contra Costa, Marin, San Mateo, Alameda, and San Francisco Counties.
Packaging earns its place
The Custom Assembly and Packaging operation has been providing packaging, labeling, fulfillment, and assembly services to northern California businesses for 30 years. According to CAF Founder and Chief Executive Officer John Visbal, the operation functions based on three assumptions: The job has to be done right the first time, the customer's budget is tight, and the customer needed it yesterday.
Among recent customers are Dole Foods, Beringer, Costco Wholesale, and One Hope winery. The operation also has handled Clif Bar, a maker of all-natural and organic energy and nutrition foods beverages; restaurant cleaning supplies; and biodegradable plates. Visbal says the operation also has served local chocolate manufacturers with warehousing of assembled gift assortments.
The Custom Assembly and Packaging facility is a bonded wine warehousing facility. Veronica Sanchez, who oversees assembly and packaging operations, says that 54 workers comprise the staffing, with seven of them being autistic. Each works a six-hour shift and is paid either hourly or per-piece. The staff stays, on average, three years with the operation before being placed outside in mainstream employment. Operation and maintenance of packaging machinery is required of employees, with supervision and training performed by counselors and the facility's director, production manager, and shift supervisors. The full-time product manager makes the choice of machinery. Typically, 50% to 80% of the workers are kept busy at any point in time, depending upon job loads.
"We work on many different types of jobs," Sanchez says. "We do gift packs, assemble and shrink-wrap bundles, sleeve wrap, label, collate, and fulfill repacking orders. We also handle international shipping and mailing. Fulfillment was added to our list of available jobs just one year ago."
Visbal explains that the Custom Assembly and Packaging operation is a service-driven business. He is clearly proud of the fact that the operation has grown to become the third largest business in Richmond, supporting both its own operations and the multiple services of the Foundation.
"The program is self-sustaining, providing resources beyond its needs," he says. "The operation's day work is a safe and productive environment for special needs individuals. The work involves repetitive but very detail-oriented tasks."
He describes the center as vocational training, with the goal being life-long employment and independent living for its constituents. "There is no magic cure for autism," he states very bluntly.
Visbal says the economic downturn of recent years has had both a positive and negative impact on the assembly and packaging business. Although it is harder to find new business opportunities, the program's services are priced extremely competitively, he says, compared with other similar businesses.
"The somewhat perverse positive is that, with unemployment so high, more people are responding to job ads, so the pool of available new workers is great," he muses.
Specialized employment
The Custom Assembly and Packaging operation is part of the Foundation's Supported Employment Program, which provides job training and placement for individuals with developmental and physical disabilities.
Program services comprise a four-step process:
1. Assessment: Each participant is carefully analyzed to uncover unique interests, ambitions, talents, and special needs.
2. Job development: The staff reaches out to local employers to match participants with desirable employment opportunities, tailored to their specific skills and interests.
3. Pre-vocation: The program assists a prospective employee with the interview and accompanies the person through the entire hiring process to ensure that the employer and employee have a mutual understanding of expectations.
4. Job coaching: An on-site, personal job coach meets with the new hire on an ongoing basis to help assist the person in job training and employer-employee relationships, and also to provide personal support.
Benefits accrue for both the participants and employers, Visbal says. In addition to on-the-job training and ongoing support, the program offers many intangible benefits for participants. Supported employment helps participants obtain meaningful work that gives a sense of purpose and personal fulfillment while also enabling them to achieve independence and productivity. Participants enjoy an improved quality of life that enhances their relationships with family, friends, and others.
For employers, the Supported Employment program gives employers access to well-trained, productive employees who are motivated to work. The services of the Supported Employment specialist are provided at no cost to the employer. In addition, the employer may qualify for the Work Opportunity Tax Credit.
Every part of the Supported Employment operation is designed to meet the guidelines outlined above. The organization keeps its overhead low, so job bids are able to be the most competitive. The work force is highly trained and flexible, Visbal concludes, adding that quality assurance specialists oversee every job, every step of the way.
The author, Mary Ann Falkman, is a longtime packaging industry writer. Contact her at 630/653-5950 or [email protected].
Companies in this article