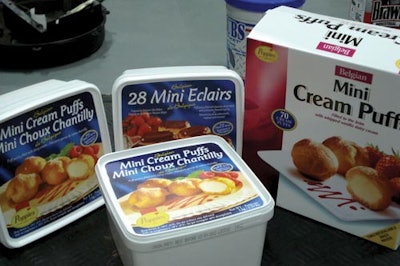 Poppies International, Inc., Battleboro, NC, produces a range of frozen desserts—including various cream puffs and éclairs—packaged in polypropylene plastic tubs or zipper bags in clay-coated paperboard boxes from proprietary suppliers. These products are marketed nationwide to retail and foodservice operations.
The company had been using a black-ink, wax-jet printer to accommodate the identification and expiration-date coding of these products. But Poppies wanted better contrast on different colored packages. The dessert maker also was interested in reducing line downtime caused by printing/coding problems and minimizing the need to replace expensive spare parts on the printing/coding equipment.
Poppies production manager Sanja Bass notes, "We wanted printers that would not take a long time to get ready for operation. With other printers we have used, it would take 30 to 45 minutes for them to warm up before they could start printing. We also wanted printers with software that was easy to work with. Creating and changing codes was much more difficult with our old printers. And lastly, we wanted printers that would be easy to clean and maintain."
After evaluating the options, Poppies selected small-foot-print (15.7" x 11.4"), lightweight (55 lbs) Model PB ink-jet printing equipment from
Hitachi America, Ltd.
. These printers feature high-performance ink viscosity/density control to ensure stable dot formation and high-quality printing. The units are housed in dust- and water-protective shells to endure harsh environments. They can print one or two lines (120 alphanumeric characters per one line or 60 alphanumeric characters per each of two lines). Hitachi's servicing distributor for Poppies is
Pak-Tec
.
Bass says, "We have a few of these units with black ink and one for use with yellow ink. We purchased our first Hitachi printer in 2008, and our latest one was installed in May 2010. These printers are extremely easy to install and set up, once the technician explains a little bit about the settings. The Hitachi technician came out for two of the installations. He wasn't really needed after that. But Hitachi technicians always are available, if we do need help."
Improved printing proficiency

Poppies' experience with the Hitachi printing/coding systems has been very positive. Bass reports, "Our main goal with installing new printing equipment was to improve printer-ready time. That has definitely improved from the previous 30 to 45 minutes to now approximately three minutes needed to start up the Hitachi systems. Changing codes between shifts also is much easier and requires less than a minute.
"Ink usage is lower, cutting our ink costs. Print/code clarity is consistent. And code and print sizes are easier to change and adjust. Cleaning and maintenance have been simplified, too. So far, we have not had any problems, nor any need to replace any printer parts. The system is just easier overall to operate."
Companies in this article