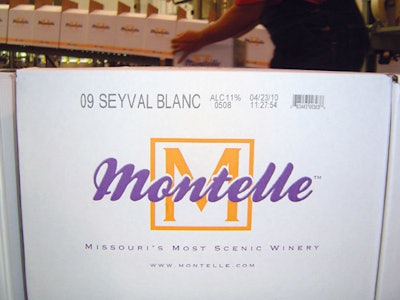 The company saw a need to upgrade shipper case coding operations to replace aging dot matrix equipment and achieve more print/code size and content versatility and higher print speeds.
Needing a system that could print variable product flavor, alcohol content, lot numbers, and bar codes on the shipping cases, Augusta Winery consulted with
ID Technology
, a major manufacturer and integrator of labeling, coding, and marking systems. ID Tech, a div. of Pro Mach, assisted in finding the optimum print/code system for the Augusta Winery application, recommending and supplying a Solo Series 45 print head and a Marksman Duo Controller from
Foxjet
.
Winery owner Tony Kooyumjian reports that the system was installed in May 2010. The winery packaging staff found that the Duo Controller was much easier to operate than the hand-held units offered by some competitors. The entire unit is mounted on a case taper. Cases are hand-filled with bottles of wine and pushed through the taper. As the boxes pass through the taper, the Solo Series 45 simultaneously codes the cases with the appropriate information.
Augusta Winery is pleased with the improved print quality/resolution offered by the new system (case on the top) compared to what it was getting before (case on the bottom). Coding changes also are much easier to achieve.
Companies in this article